The average adult now spends at least 2.5 hours a day on social media.
If you're a small-business owner, that last fact is particularly important. Fourteen years after MySpace officially became a social network and Facebook got its start in a Harvard dorm room, social media has become a staple in our society and daily lives.
Most basic social media advice tells you to join every social network and spend all day posting, tweeting and pinning. Do this and do that. You don't have time for that.
It's important for your small business to have a presence on at least some of the more prominent networks, like Facebook or LinkedIn. But if you've tried growing your following through those channels, you also know it's not as easy as it sounds.
Social media advertising helps you get more bang for your marketing buck while reducing the amount of time you personally have to spend on social media. While this is standard marketing practice for larger companies, most small-business owners don't really know how to use social media for advertising.
That's where this guide comes in.
In this guide, you'll find the steps, solutions and goals to help you maximize your social media profits with advertising — even with a small-business budget.
Do these things first to maximize your social media profits right out of the gate
Social media isn't just for kids anymore. Nowadays, you need social media to survive in the business world. Whether you love it or hate it, there are smart ways to use social media to your advantage—especially when it comes to advertising.
Pick your platforms—but focus on only two
You have a variety of social networks to choose from, but not everyone will deliver the same return on investment for your small business. Zero in on the platforms your target audience is spending time on, but double your effort on the two platforms they're spending the most time on.
To find the best channel, consider each platform's demographics and how consumers interact with it. For example, here are the demographics of three popular platforms for small businesses:
Instagram
Average Age: high use with millennials (ages 18-32)
Interests: Photography
Primary use: Sharing photos, following celebs and inspirational figures
Fun facts: 400 million active users, 60 percent of users check their Instagram at least once a day
Advertising pros: Easy to reach a niche audience
Facebook
Average age: 25-34
Interests: videos, articles, life updates
Primary use: connect with friends and family, stay up-to-date on news and interesting info
Fun facts: 300 million photo uploads per day, average time spent on Facebook is 20 minutes
Advertising pros: Easy to reach a niche audience, many ad placement options
Pinterest
Gender: 85 percent female!
Interests: DIY projects, recipes, outfit ideas, looking at all things pretty
Primary use: visualizing and collecting inspiration
Fun facts: average number of searches per month is 2 billion
Advertising pros: Ability to sell products on the platform, great click-through-rates
Don't let technology own you—make it work for you
If you find yourself learning stuff like CPM versus CPC bidding or getting bogged down learning a ton of third party tools, stop! Unless you're a software developer, you don't need all that.
While you're learning how to use social media for advertising, just use the basic settings on your platform of choice—and for heaven's sake, stay away from Facebook Power Editor.
Get your data together
Start thinking of social networks as what they really are: ad networks. They provide conveniences to users ("free" email and photo sharing) in exchange for all their information.
As a small-business owner, embrace this. They're providing all this data to you for awesome targeting.
So you need to connect your website and email list to Facebook, Twitter and Google; then you can have all your audiences in one place and start following customers around.
Get your social media "plumbing" in place
Get these things set up to driving your master social media plan forward:
Google Analytics with conversion tracking in place on whatever leads/sales matter to you
A dollar value assigned to leads, sales, or other events. Choose a placeholder value if you're not sure
Google AdWords account, so you can run remarketing ads for people who abandon your site
Facebook page set up for your business with proper cover image, a video, link to your site and 10 posts
Facebook ads account set up so you can boost posts and import audiences
Facebook and Twitter conversion tracking on your site in the same places that you have Google conversion tracking
Twitter profile for your business, properly completed, so you can check analytics and post/reply to tweets
Marketing automation system with at least 1,000 emails in your list. If your number is smaller, just don't expect high ROI at first
These items are also important to have in place, but are a little more advanced. So grab a cup of coffee before you start the setup…
Google Tag Manager, so you can manage the multiple JavaScripts that live on your site
Google Webmaster Tools, so you know what keywords people are searching on
YouTube channel for your business with at least one video professionally made with you describing your business
Twitter ads account so you can run Twitter remarketing (called tailored audiences)
LinkedIn company profile (not just your user profile) with ads account set up
If any of these pieces seem technically daunting, you can hire people to get this set up for you for a couple hundred dollars.
Take Keap's Lifecycle Automation Assessment to identify growth opportunities for your business.
5 Tips for advertising on social media with a small business budget
There are plenty of money-saving tricks and tools you should try before you start burning through your social media advertising budget.
Keap social media manager Crystal Heuft gives these five recommendations for maximizing your social media profits while minimizing the strain on your bank account.
1. Start organically
Before you start putting money toward your social media advertising, Heuft recommends finding a baseline by starting with your organic content.
"Facebook rewards you with more reach if you perform your post organically and then put money towards that content," she says.
However, it's important that you only put money towards organic posts you know are already performing well. When Facebook recognizes the popularity of the post, it'll give it more audience reach.
You can access insights on your organic posts natively (on the platform you're posting on), or through the social media management tools you deploy.
Once you've put money behind your popular organic posts, wait a few days before increasing your spend. You'll want to make sure it still performs well. If it does perform better than average, you should feel comfortable applying more money to make it get further reach.
2. Be choosy with your spend
"I only put money behind something that goes to our core initiative," Heuft says. "For example, I'm more likely to put money behind our own content versus anything unowned because it helps get our leads through the funnel. So, put your money behind things that will actually help your business."
If you don't have a lot of owned content, post content relative to your business (be sure to avoid your competitors' content), accurate articles or videos you think your followers would be interested in, or even link to your own website.
For any social media advertising you plan to pay for, try to do it natively. Your social media management platforms like Buffer or Hootsuite may let you set up paid advertising through their platforms, but the truth is, channels like Facebook, Twitter, and LinkedIn tend to favor and reward advertisers more when they set up their ads directly on the channel.
Additionally, you can get granular with the markets you target. Most platforms let you choose custom or lookalike audiences (used primarily for testing your ads) by demographic, location, age, gender, etc. When you get specific about who you're targeting and how far you want your reach to go, you'll be surprised at how much ROI you'll receive from minimal spend.
3. Create engaging content
Engaging content is defined as content (graphics, images, posts, video) that gets followers to engage in some way: like/favorite, share/retweet, comment/respond, etc. Facebook, Twitter, and the likes recognize these engagements and will reward businesses the more their content receives engagement.
Here are some ways to get your audience engaged without spending an arm and a leg:
Write short and catchy content: While you don't have to be the next Dan Brown, it's important that the written content you provide creates a response from your audience. This is done best by keeping your content clear and precise, but also relative to your audience, on-message and on-tone with your brand, and relative to ongoing trends.
Add images and video: People like content that's easy to consume and interesting to look at or watch. Images and video help draw your audience in and retain them by being funny, culturally relevant, or educational. Luckily, modern technology has made it so easy to create this kind of content for pennies, simply by using your own phone. Check out this handy guide from Wistia and Keap on how you can create high-quality videos like a Fortune 500 company.
Include a poll, survey, or quiz: Online polls, surveys, and quizzes are having quite the moment (just check out Buzzfeed's main content feed for proof). And for good reason! Polls, surveys, and quizzes aren't just entertaining, they give businesses (basically) free data from people. They also give businesses a 20 percent boost in web traffic. Use a tool like EasyPolls to create a poll, survey, or quiz.
4. Optimize your content for mobile
According to author and Facebook guru Mari Smith, who contributed to our 2019 Small Business Marketing Trends Report, a whopping 90 percent of Facebook users access the platform from their mobile device. Additionally, more than 80 percent of Twitter's users are mobile, and 80 percent of Instagram users follow at least one business on the platform.
This means that now is the time to optimize your social media advertising efforts for mobile. Here's how:
Use posts shorter in content that are easy to read on a small device
Post at peak mobile usage times, generally when people are traveling to-and-from work (around 9 a.m. and 5 p.m.)—and don't forget about time zones
Specify the types of devices you want to target when setting up your ad, and
Make sure your video and images are compressed and optimized for mobile.
Some free tools you can use are:
5. Follow the rules
Facebook and Instagram are known for constantly changing their feed algorithms. This causes a shakeup in how people receive information on their feeds and how businesses reach their audiences. Businesses that are apprised of these changes when they happen and can adapt quickly are rewarded with more reach than those that don't.
"It's their playground, so if you're not playing by their rules, you're going to have less of everything," Heuft says. "Once they see a pattern of you following their rules, they'll reward you with more reach, which leads to more engagements, more followers, and hopefully more visits."
Heuft recommends keeping a regular watch on the native blogs of your social media platforms, because, "the minute you nail it, they'll change it."
She also recommends a good, ol' fashioned Google search each month for algorithm changes from all the platforms you advertise on. Keep a lookout for blogs announcing the changes from companies like Hootsuite, Buffer, or Sprinklr, as these are well-established and well-respected social media management companies that are constantly first-in-line for this type of news.
Another resource Heuft depends on is YouTube. She recommends this search equation: "X social media channel" + month + year. There is a number of social media influencers and gurus that take to their vlog regularly to discuss these changes, and they tend to be pretty accurate and timely.
5 Social media advertising mistakes you need to fix today
Now that you know what to do, let's cover what NOT to do. Troubleshoot these common problems to maximize your social media profits:
1. You don't know your audience
Have you defined your target customer? How old are they? Where do they live? What social media platforms do they use most? What problems do they have that you're trying to solve? If you haven't answered some basic questions for yourself about who buys your products or services—and why—then you're hobbling your efforts from the get-go.
You can't start posting ads on Facebook, Instagram, or LinkedIn and hope they reach the right person. You need to know who is likely to respond to what you have to offer and put your ads in front of those people specifically. The beauty of social media ads is that you can do just that, so it's worth putting some time into defining your audience.
2. You haven't set clear business goals
Do you know why you're posting ads or promoting posts on social media? Setting clear and specific business goals for each ad campaign is key to your success with social media marketing.
Instead of "get more business," think of goals like "build awareness of my business with customers in my neighborhood" or "drive new traffic to my business website." Goals that are too broad or vague make it hard to design your ad, and even more difficult to tell if it's having the desired effect.
Here's a list of some goals you might want to achieve with social media marketing:
Building awareness of your business
Getting feedback or suggestions from customers
Having customers review your business or recommend it to others
Promoting sales, specials or seasonal events
Driving more traffic to your website
Generating phone calls to your business
Collecting email addresses for your email marketing
3. You're not tracking your results
Not every social media ad is successful, and that's OK! You just need to make sure you know which ads perform well and which ones don't. Then apply those lessons to your next campaign. But you can't learn much if you're not tracking the results of your ads.
Most platforms collect that information for you. For example, in Facebook Ads there is a reporting function that shows information on your individual ads, ad sets, and even whole campaigns. You can customize these reports to include metrics like ad reach, impressions, clicks, conversions, and more.
You can also use UTMs—a short string of letters and numbers at the end of a URL—to tell how much of your website traffic is coming from a specific ad. Google's free UTM builder allows you to create custom URLs that will indicate the source of the click.
For example, you might use "Facebook" in the campaign source field; then, paste your custom URL in your ad for customers to click on. The UTM will show up in your website analytics, so you can see how many visits came from this ad on Facebook. (Pro tip: You can use UTMs in all your social media posts, not just your ads.)
4. You don't know what to track
So, you have tracking set up on all your ads. Now, how do you interpret the results? The metrics you track most closely will depend on your business goals.
That said, just about everyone should be concerned with the difference between who viewed an ad and who actually interacted with the ad—you need clicks, not just views. If lots of people are seeing your ad but not clicking on it or reacting to it, it's not working very well. As a rule of thumb, if 2 percent to 5 percent of people who see your ad click on it, it's performing well. If that number is less than 1 percent, it's time to reevaluate.
Clicks aren't the only metric to look at, though. Engagement matters as well. If an ad gets lots of comments, shares and reactions, that's a positive sign. Even if those customers don't convert right away, they might come back to purchase later after seeing another social media post.
That's an important point to keep in mind: Not every customer is ready to purchase on day one. When you evaluate ad performance, look at a 28-day window of activity. Some customers need time to think over a purchase, and you want to capture them in your reporting.
5. Your message isn't working
If you're not getting good results, it could be that your message just isn't speaking to your audience. How do you fix that? Test, test, and test some more!
When you design your ads, think about your target audience and your business goals first. Then, brainstorm a few different options. You'll then test these different options by creating different ad sets that mix and match the elements you've created. One might test out the same copy with different images, while another might test two different offers with the same image. The winning version should rise to the top over time in your metrics reporting.
Now that you've got the basic social media advertising tips for small business, let's get nitty-gritty with a few of the most popular platforms:
How to advertise on Twitter
Twitter is a great mobile advertising medium, with 80 percent of their users on mobile devices. If you develop mobile apps then this is a great place to advertise them.
Through their App Install Campaigns you can promote your app and the mobile user can click the install button and they are instantly taken to the app store on their mobile device so they can download the app right there. No extra steps required.
Another advantage to using Twitter ads is that Twitter will help you figure out the different types of Twitter ads.
You can actually submit a support ticket and get help from Twitter experts who will help you optimize your campaign's targeting and performance.
If you launch a campaign and see that it's not performing as well as you'd like, you can ask Twitter for some suggestions and they'd be happy to help within the next business day usually.
This isn't possible on Facebook or Google unless you're spending a lot of money.
One of the easiest and most cost-effective ways to advertise on Twitter is to promote a tweet. A promoted tweet is an ad that doesn't look like an ad. Here's an example:
Here is a normal tweet.
Annual planning is very important the best way to ensure you reach your goals. Check out our strategic planning kit: https://t.co/nt64vfC7hh pic.twitter.com/zKRXBMEHfe

— Keap (@KeapGrowing) March 28, 2018
This is a promoted tweet. Notice the subtle difference? (Hint - it has the word "Promoted" in it.)
Use participating GCP products for free up to non-expiring usage limits https://t.co/SWYlHW2Xhy

— Google Cloud Platform (@GCPcloud) March 6, 2018
How to use promoted tweets effectively
Setting up an ad campaign takes some planning, but don't let that stop you from launching.
The first place to get started is to take a look at your content incentives or what you will give people in exchange for their contact information (i.e. email address, name or etc.).
Evaluate your incentives and put yourself in the mindset of your ideal customer.
Understand your potential audience
Answer these questions/exercises and then you'll have a better idea of what content incentive to focus on advertising.
Do your best to imagine what it would be like if you were in their shoes and write down everything. No idea should be eliminated.
1. Why do you think they use Twitter? Are they looking for friends, resources, suggestions, or are they trying to get questions answered about specific problems your business solves?
2. What kind of content do they engage with on Twitter that you could tie to your offer? Are they retweeting or favoriting news articles about the industry (aka gossip), training tips, videos, infographics, inspiring quotes or other kinds of content?
Review your five to 10 most popular Twitter posts and list them in order of most popular to least popular
Here's how to do that:
In Twitter, go to your profile.
Scan your tweets. Take note of your most popular tweets:a. Which ones have a lot of Favoritesb. Which ones have a lot of Retweets
Copy the tweets and paste them to a document like Word, Pages or Excel.
After you have five to ten pasted sort them based on the following:a. Two points for every Retweetb. One point for every Favoritec. Sort your tweets based on total points—the post with the most points is your first most popular tweet and continue to sort them based on that number
Match your content incentives with your top tweets from step 4.
How to write your promoted Twitter post
Now that you have a list of your most popular tweets, how can you use that same type of tweet and tie in your incentive content?
Here is an example from Keap:
Annual planning is very important the best way to ensure you reach your goals. Check out our strategic planning kit: https://t.co/nt64vfC7hh pic.twitter.com/HbyTSG3ErX

— Infusionsoft by Keap (@Infusionsoft) March 26, 2018
Now that you have a few promoted tweets written down, start tweeting them.
You can use a tool like Buffer or just manually tweet them out and monitor their results.
If any of the tweets get engagement, then promote those with Twitter Ads.
The great thing about tweeting them first is that it allows you to get an idea of which ones might be popular without spending any money.
Get creative with your promoted tweets. Focus on creating advertorial style tweets that are fun, engaging and people are proud to share.
How to advertise on Facebook
Facebook is the most used app in terms of engagement. With the new "liking" options and increased sharing of interesting videos and articles, users are more inclined to explore and engage on Facebook, making it a prime advertisement platform.
Facebook has a ton of campaign options for you to choose from. All it takes is a little research on which option will do best for your campaign. After that, choose your settings and see your growth!
Run different types of Campaigns
Boost your posts
Promote your page
Send people to your website
Increase conversions on your site
Reach people near your business
And so much more!
There is one Facebook advertising method most small businesses are not yet taking advantage of yet, though—and it's a powerful one. We're talking about the hidden marketing gem that is Facebook Messenger.
Chatbots have been around for a while, but recently they have gained popularity when Facebook allowed branded chatbots onto its Facebook Messenger app.
These days, brands use email, text messages, social media, and websites to facilitate most marketing campaigns. With Messenger, all these methods can be effectively combined into one channel.
How to generate leads with Facebook Messenger
Facebook Messenger, as of July 2016, hit the 1-billion-user milestone—and still counting. Reaching your audience just got easier with a 100 percent deliverability rate, unlike your Fan page posts. With numbers like these, this channel can't be ignored for marketing.
This new marketing channel is an exciting opportunity to experiment and connect with your audience. Brands can also enjoy fewer competitors, less ad fatigue, and potentially exponential returns on the marketing investment. An automated messaging chatbot can be a dynamic and powerful tool that can help with your marketing and promotions.
So how do we take advantage without getting too overwhelmed? And how do we come up with a strategy for your Messenger chatbot? We'll go over a few ways to help with these questions.
Don't overthink it
Ultimately your Messenger strategy should be focused on extending and assisting any of your current and future marketing campaigns or initiatives. Creating funnels based on user engagement can help with building a customized experience for your potential leads. Whether you are promoting a product or just looking to help build your subscription list, chatbots can make marketing.
What are some chatbot marketing ideas?
A lot of the same techniques used in the digital marketing space can be brought to your chatbot channel. Determining your campaign goals first will help decide which strategy can be the most effective. You might have to try a few different techniques as well as combinations to get the results you're looking for. Here are a few examples you should consider for your campaign:
The traditional lead capture method is an option. Creating messages to capture emails to help build your contact list. Allowing users to opt-in to become subscribers enables successful notification delivery. These lead-capture messages can also allow downloadable content as an incentivized action.
If you're looking for more active engagement (as well as gathering audience data), you might want to try running a quiz, assessment test, poll, or survey as a marketing campaign. With these content types and some creativity, segmenting and funneling your audience becomes a lot easier.
Online advertising is an integral part of most marketing campaigns—and being able to combine your advertising campaign with Messenger can be extremely effective. If you're running any Facebook or Google ads, arrange for your chatbot to be the landing page. Facebook has an ad unit option which allows the ability to integrate with Messenger, i.e., enabling Messenger to become a full native experience for the user.
Bring some traditional marketing methods to your Messenger brand as well. Allow users to get or download discount codes or coupons for your product. Offering content with value for your audience can help initiate engagement.
The Messenger experience for your audience can be more than just a landing page. Encourage your audience to use your chatbot to obtain information about your product. Of course, you don't want to overdo the amount of information your chatbot provides, but this gives your potential lead another option for engagement.
Does your product or brand create new content (blog posts or articles) on a regular basis? If so, then allow the content to be accessed or scheduled to be delivered to your audience through Messenger.
Try using one of the most successful and engaging forms of marketing and promotion—running a contest. Build and grow your list of subscribers by having a giveaway sweepstakes.
These are just a few examples of how you can use a chatbot with Messenger to help in bolstering your lead generation campaigns. This might be a trial and error process discovering which strategy works best for your company, but could be well worth the time investment in the end.
How to advertise on Instagram
Not too long ago, Instagram rolled out with sponsored ads. While we as users may be annoyed seeing an ad while scrolling through our friends' posts, running an Instagram ad for your business does guarantee you'll be seen. It's impossible to swipe away or exit out of an ad on Instagram, meaning the only way you can 'dismiss' the ad is to actually scroll past it. Because of this, users are 2.5 times more likely to click on Instagram ads rather than any other social platform.
How to get started
Create a Facebook Page for the brand you want to promote: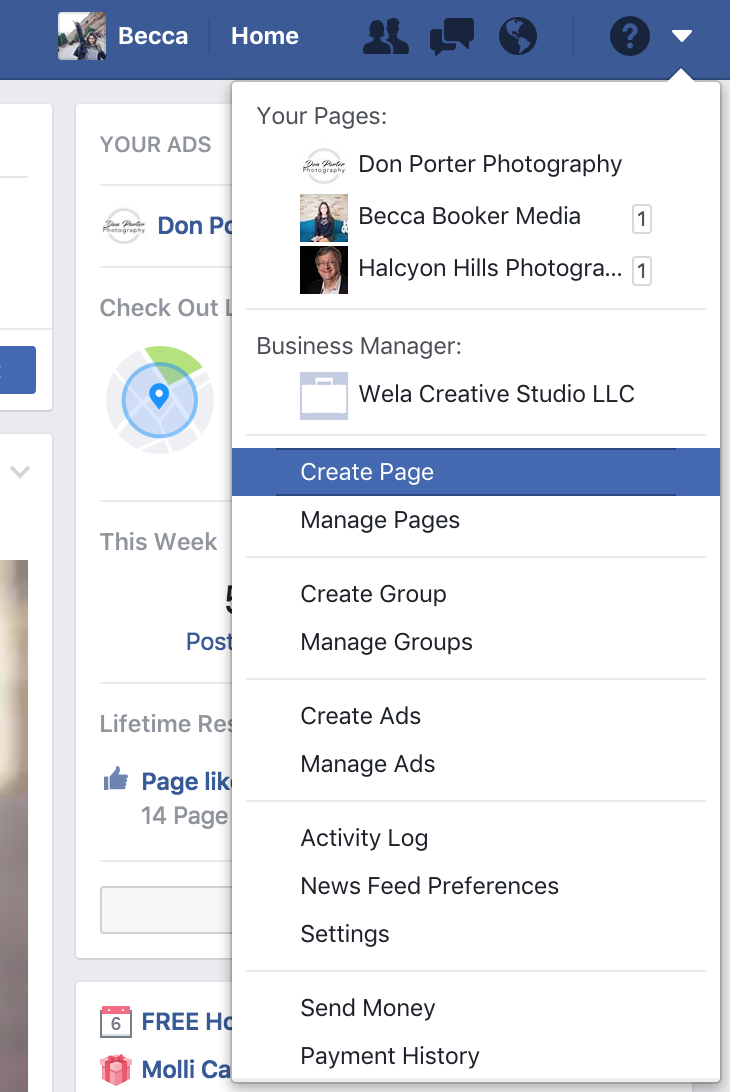 Click "Create Ads":
Choose your campaign's marketing objective: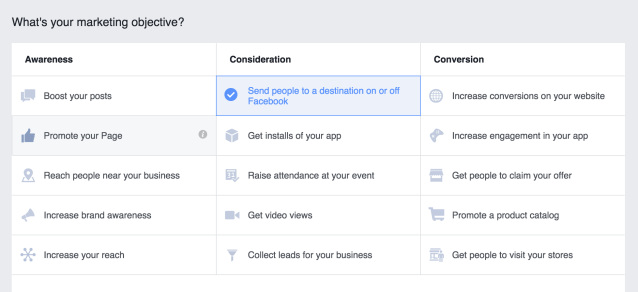 Create your campaign
Choose your audience
Be sure to indicate "Instagram" under "Placement"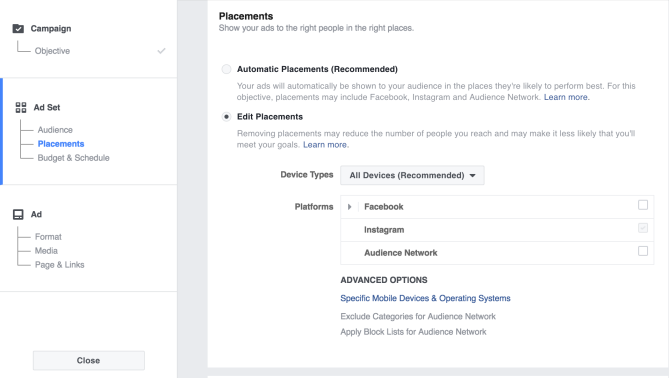 Set your budget and choose when you want the ad to run
Choose your content type: photo, video, or carousel (photo slider); Tip: Use clean, high-quality, eye-catching images
Write a compelling caption
Choose a call to action
Place the order for your campaign
How to advertise on Pinterest
One of the best things about Pinterest is that your content has increased longevity. While other social media channels are usually chronologically presented, Pinterest presents information based on popularity and relevancy, allowing your Promoted Pins to squeeze out every ounce of exposure.
Promoted Pins are created just like regular pins—you just pick which ones you want to pay to boost.
Once you've posted your pin to Pinterest, follow these steps:
Make sure your Pinterest is registered as a Business Account.
Click Ads in the upper left corner: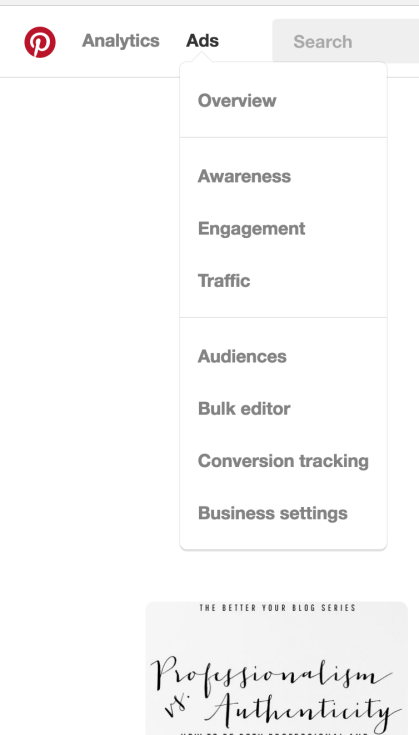 Choose your focus (Awareness, Engagement or Traffic)
Click "Create Campaign" in the upper right-hand corner:

Choose an existing campaign, or start from scratch
Set your schedule and budget
Choose which pin you'd like to promote
Choose your target audience
Choose your max bid
Click "Promote"
Keep in mind that Pinterest has a lengthy list of specific do's and don'ts for Promoted Pins. Read up on the rules before spending too much time creating your pin only to have it rejected.
Final thoughts on social media advertising for small business
Follow the social media advertising tips for small business in this article, and you'll be ahead of your competition in no time.
You can make a small social media advertising budget stretch a long way if you go about it the right way. By being picky about where and how you spend, and by being resourceful with what you already have, you can accomplish more than you ever thought you could with your social ads.