We're only two months into 2019 and we're coming off of a terrific year for the e-commerce industry. Social media, omnichannel commerce, last mile delivery, and many other new-age business models have contributed to $409 billion in e-commerce sales in 2017. Experts suggest that in 2018, the annual sales figure could exceed $460 billion.
Let's take a look at some possible contenders that have chances of becoming the next biggest e-commerce trend:
Voice search
Siri, Alexa, Google Home, and a host of other smart home assistants are redefining e-commerce. Customers are slowly receding from a keyword-based search on e-commerce websites. The trend of voice search will get stronger in 2018 as more U.S.-based customers, as well as global customers, will buy smart home assistants.
Native language understanding, artificial intelligence, and the Internet of Things will also add momentum to voice-based e-commerce operations. The Walker Sands 2017 Future of Retail Study found that more than 19 percent of 1,600 U.S. consumers have already made an online purchase using voice commands.
For online store owners, this will pose a new challenge. They will have to up their game to meet and serve customer voice commands. For instance, if you are a website that sells online fashion clothing, the store should be able to understand long-tailed voice commands that mention the product name.
Chatbots and messengers
From toll-free numbers to live chat, the next big leap that e-commerce marketing will take in 2019 will be chatbots. Chatbots provide a personal way of interacting with customers.
For online store owners, this translates into two major benefits: It saves tons of money that otherwise would be required to understand customer preferences from data. Secondly, it gives conversions by directing customers straight to the right products that meet their search criteria.
Small and medium scale businesses that are not able to invest in high-end chatbots can bank on Facebook Bots and similar cost-effective services. These intelligent messenger bots can do many automated tasks like personalized product suggestions, offer customized offers, notify of price drops and so on.
Unified Commerce
Online shopping signaled the doom of brick-and-mortar shops. A large number of shopping malls in the United States are already closing down are been resigned to an uncertain end. Online shopping has remained mainstream for the past two years.
However, in 2017 a new trend started taking shape that will become more prominent in 2018 and beyond. That is the trend of omnichannel e-commerce. In omnichannel e-commerce customers would have the liberty of ordering online and picking up their packets from an offline destination.
Unified commerce goes a step ahead and connects all the components of e-commerce real-time. The mobile, web and the offline store—everything is brought under a single umbrella under unified commerce.
Video marketing
There is no more telling that video is the future. It has become the present. Video has found its way into online store banners and even individual product pages. Long-written product descriptions are often confusing and even a bit difficult to understand. Although they give an SEO advantage, video marketing gives an upper hand over textual content with unlimited reusability.
Also, customers are more interested in watching than reading about a product. Video marketing statistics prove that videos can help achieve click-through-rates up to 200 to 300 percent more than other forms of content.
New forms of video like interactive video are also becoming increasingly popular. BEOPlay has integrated an interactive video that plays mini video clips of headphones and how they respond to user gestures.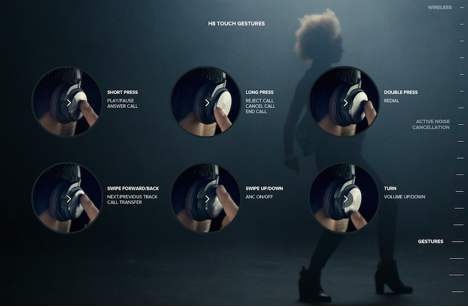 Image Source: Econsultancy.com
Augmented reality
Augmented Reality in eCommerce could change things around for both customers and retailers. For retailers, it would help reduce the return rate by serving right products that serve customers aptly. For customers, AR would help make informed decisions that are best suited to their needs and aspirations.
The IKEA Place App is an excellent example of this. It allows customers to digitally place furniture in their spaces to know whether the dimensions are accurate or not.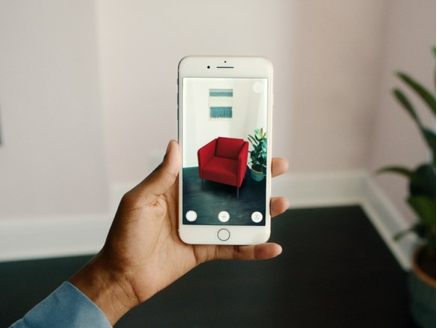 Image Source: Wired.com
IKEA has banked on Apple's ARKit to create the IKEA Place App. IKEA even claims that the app provides a 98 percent accuracy in placing furniture digitally in physical spaces. More online stores are bound to follow since this helps earn more cost-savings from avoided returns in the long run.
AI product suggestions
In addition to chatbots, Artificial Intelligence will go on to enhance eCommerce by providing intelligent product suggestions. These product suggestions will be more attuned to customer interests like color, size, complete-the-look choices and so on. The AI system will derive suggestions based on historical shopping habits of the customer as well as based on patterns of ongoing trends.
This would impart customers a personalized shopping experience that feels more like as assisted purchase than a virtual shopping experience that is often blunt and lonely. Amazon has long since been deploying DSSTNE (pronounced "destiny")—home-grown AI tool that has been helping millions of shoppers find the right product that best fit their individual needs.
Other things that matter
In addition to the above mentioned, some other trends and practices of 2017 will become more prominent in 2018. For instance, all online stores would have to move to the HTTPS version since cybersecurity and SEO ranking will become entirely reliant on them. Online stores can no longer skip the option of investing in an SSL certificate. They have become essentials to run an online store. Also, customers become more aware of security measures and how they impact their shopping experience.
Along with voice search, augmented reality, artificial, intelligence and security, e-commerce is all set to reach a new level of experience in 2018. Get ready to be surprised by your favorite online shopping websites.
Jason Parms is customer service manager at SSL2BUY LLC. He is responsible for administering the customer service division and ensuring the organization provides the maximum level of customer service. He has achieved his target very quickly through diversified SSL security products and incomparable support.