The trend of e-commerce seems extremely promising as more and more people choose to shop online. This means that for e-commerce companies, the checkout process is one of the most important parts of their business.
The checkout flow is where the money is. Because this is the page that brings in actual revenue for businesses, even a mere one percent increment in conversion can give a business a significant boost in profits.
There is a direct correlation between checkout conversion rate and shopping cart abandonment. According to a study conducted by Baymard Institute, almost 70 percent of online shoppers abandon their carts without buying anything.
If you are an e-commerce business owner, it is extremely important to make the checkout process fast, easy and secure without cutting any corners. If you are facing cart abandonment problem with your online store, checkout page optimization holds the key to success.
Another revelation of Baymard Institute says if retailers optimize their checkout pages, they can recover around $260 billion of that lost spending. So it is quite clear how important is checkout process for e-retailers.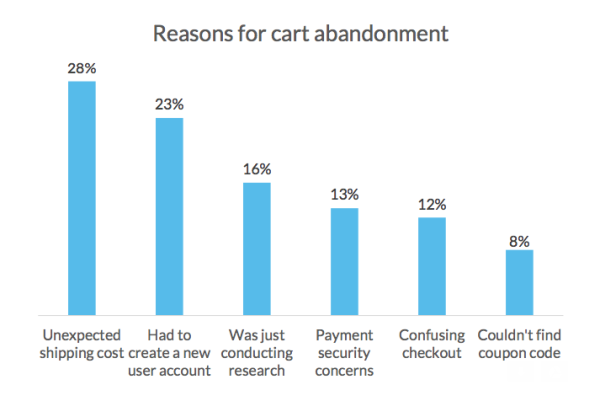 Image credit: Smart Insights
A seamless checkout page is all about creating impressive user experience. An impressive user experience is one of the best bets for an online store to succeed. From improving the functionality of your website to making it more secure, user experience plays a vital role in bringing as well as retaining customers.
To create a better customer experience and optimize your shopping cart page, read on.
1. Reduce unnecessary form fields
Making the checkout process effectively seamless means keeping it to a single page with a limited number of steps. The more steps your checkout page has, the less likely people are to go through them. Eliminate any form fields not pertinent to your business needs to avoid losing converting customers. A minimal checkout allows the customer to check out instantly and increases your chances of a sale.
There's no point in requesting more information from your customers than you actually need. In fact, the more personal information you request customers to provide, the less secure they're likely to feel interacting with your business.
The following tips will come handy in reducing form fields:
Use autofill to save time of your customers
Provide one-click-payment to bypass the entire checkout process (Amazon's "Buy with 1-click" is an excellent example)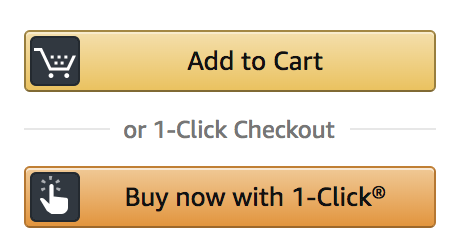 One-page checkouts
Quick and simple redirects
2. Offer multiple payment options
To achieve a better conversion rate, it's important you offer the best and most popular payment options, like conventional credit cards or Paypal.
Unfortunately, many online retailers don't offer this. Due to the expanding number of people shopping online, it's important you cater to their various payment needs. Shoppers are going to cancel their purchase or abandon their cart if they can't pay you.
Of course, it's not practical or feasible to include every payment option, but if you research your target audience properly, you should get a solid understanding of the payment methods they prefer.
It's also important to note that some payment gateways are only available in specific countries or currencies. If you provide a payment solution that caters to a global community of consumers, you'll attract a global audience. In turn, this can help increase your reach and eventually expand your business across continents.
With more payment options on your checkout page, the more likely your customers are to complete the process and come back in the future.
3. Optimize for mobile
A recent report from Forrester found that $1 trillion of purchases in the U.S. are made from a smartphone. If your e-commerce website isn't optimized for mobile yet, make this a priority as soon as possible.
A website that looks great on a laptop of desktop computer isn't going to be as accessible on a phone. WebCredible, a user experience design agency, found that most consumers don't like performing lengthy processes on their mobile phones. A mobile-responsive checkout process will help you capture more sales by helping customers place their orders with limited hassle.
Some improvements you can make are to increase button sizes and clickable areas. Bigger tabs are easier to see and touch. You should also provide enough space between clickable areas to prevent users from hitting the wrong link.
Additionally, you can create a seamless checkout process by giving customers the option to use one account's information for your business (i.e. using their Facebook or Twitter accounts to auto-sign-in and auto-fill their contact information).
4. Incorporate live chat
Throughout the entire shopping process, you'll want to make sure all your customers' concerned can be addressed effectively and consistently around the clock. This is where incorporating live chat into your website or check-out page can be extremely helpful. According to Digital Resource, 73 percent of customers prefer to use live chat to communicate with a business. Additionally, 42 percent of customers prefer to give their contact information over live chat than any other form of communication.
Live chat can dramatically improve a customer's likelihood to purchase from you. It can also be a competitive advantage for your business above your competitors. Live chat not only helps increase conversion rates, it also creates a good user experience. A user-friendly live chat feature will cut down on your customers' time needed to make their purchase, therefore making them much less likely to abandon their purchase.
5. Build trust and credibility during checkout
Having a secure checkout process is one of the most important things you can do for your customers and your business. Nowhere in the purchase process is this more important than during the final transaction. If your check-out page isn't visibly secure like in the example below, you can guarantee they won't follow through with their purchase.
To help build trust in your customers that the entire checkout process is safe and secure, include an SSL certification, security validation from security platforms like Norton or McAfee, security badges, and logos of available payment options.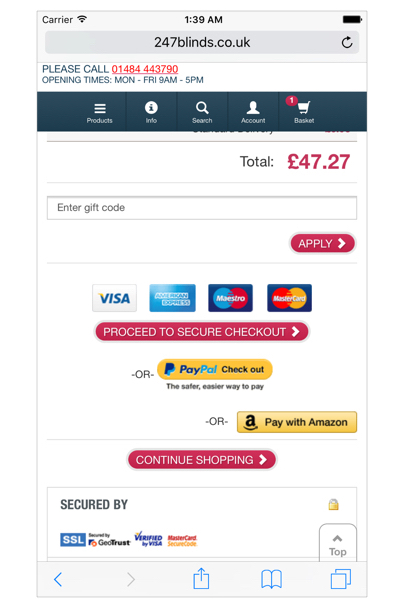 Image credit: Crazy Egg
By incorporating these five elements into your checkout page, you'll be likely to see an uptick in your conversion rate.
Smith Willas is a freelance writer, blogger, and digital media journalist. He has a management degree in Supply Chain & Operations Management and Marketing and boasts a wide-ranging background in digital media. You can follow him on Twitter.