For service providers, time is money, and intake forms save time by having clients provide the information to start the intake process.
Do You Value Your Time and Your Client's Time?
It takes effort to market for new leads. But not all leads are great. At some point, you stopped saying yes to every prospect and every job that came along. With increasing expertise, you also learn who you want to work with.
As you become more discerning, you also need to filter those leads. Not lose them. Filter them to deliver what they are looking for, and to ensure that they have the budget.
A solid new client intake form template will segment leads into the correct follow-up process.
What Type of Business Needs an Intake Form?
All service-based businesses, including real estate, accounting, consulting, and coaching, need to balance the most critical aspects of the business:
Time to deliver the service and get results for their clients
Expectations for the deliverables, or results
Define the "scope of the work"
Communication around all items
Using intake forms will make this process easier.
An intake form creates one of the first impressions that a prospect has of your company. It may precede an initial call or strategy session, or it may be part of a lead nurture process. But it is a pivotal part of the buyers' journey. It is a place to ask questions about expectations. It also clarifies definitions and goals tied to results and allows clients to expand the details and the amount of the work required.
Used well, the questions and answers will define how to move the relationship forward.
What Should a New Client Intake Form Template Include?
The intake form questions must follow your intake process.
What data is critical to starting a great relationship?
Is there information you need to guide them to the next stage of the buyer's journey?
What information will support their search or clarify their needs?
That data needs to be in your form.
For example, a real estate intake form template would ask questions about:
the neighborhood
type of house or condo the prospect wants
size of their family
Essentially, you need to ask about the search parameters needed to deliver results. Then the agent can shine in their follow up.
For a web design business, you need the goals or budget for the site. Check out this Jotform template for additional ideas. With a CRM and sales and marketing software that's integrated with landing pages and forms (like Keap), you can build an intake form directly in the same app.
These forms are also a great place to reflect your brand or welcome them to your community.
Here are some critical things to include in any intake form template:
A welcome message
Request for contact fields: email, name, phone, company name, and address only if needed at this point
Anything needed to create a quote. Focus on questions about how you can serve them and their business
Ask what challenges or goals they have for the project or service
We could include other items that might help segment or deliver results like:
Any pertinent business size-related qualifiers. Do you only work with entrepreneurs or franchises?
Ask if there is anything else they feel is important to discuss. It is okay to not have all the qualifying questions laid out—the goal is to start a conversation. Every question should give you information that you will use within the next few meetings or stages of the buyer's journey.
Tell them the next steps and guide them through your process. If the next goal is to book a call, make sure that the link is on the thank you page.
Also, keep it short and sweet to not overwhelm prospects. Leave room for more discussions on the initial call.
What to Do With All That Information
How you create the form and where you put the information is critical. Your goal is to save time and keep the process moving.
Any form tool can create a form with the ability to collect the data. But the data has to automatically move into the follow-up for the best results. What would your client expect to see next?
Deciding on the next stages in the journey is part of knowing what to ask and what type of intake form to use. What is the goal of that form?
The goal of a "contact us" form should never be to just collect the names. Ask why they want to chat and automatically send them a link to book a call based on the response. Make it great by collecting a bit more data and asking about their business type, the services they need, how they heard about you—anything that would help you define if they are a hot lead. And anything that indicates if this lead should go to a salesperson or the receptionist.
Then automate that lead dispersion right away. With Keap, automated follow-up, appointment booking, and more takes just a few clicks.
Keap's software has several ways to collect form data and use the data to automate processes.
All the Keap intake forms can also kick off the follow-up steps required like:
Sending a confirmation to the prospect by email or text message
Linking them to the next form if needed, such as the built-in appointment booking links
Emailing or sending a text message to the salesperson to reach out
Creating tasks inside the software for yourself or another team member to follow up
On top of that, do prospects ever forget to complete requested actions? Keap can track actions and follow up accordingly. Those could include everything from:
Did they complete a purchase or not?
Did the prospect book the next appointment or forget to complete that step?
Is there a contract that needs to go out with the data from the intake form?
Automatically take actions based on the task outcomes. For example, during the call you can discuss what services are best for their business. If you decide they are not a good fit for the service requested, you can recommend alternatives or send them to an affiliate product.
By selecting an option on the form inside of Keap, you can ensure no lead falls through the cracks.
Keap's Easy Automations allow you to send the right response to the right contact. And those automations kick off based on form responses, or inputs. The right response then provides accurate data to continue the conversation with prospects.
Where Do You Place Intake Forms?
Forms are housed and delivered at different times based on needs. Often, the initial form will be on your website. It could be as simple as a contact us form with a couple of qualifying questions.
It could be a full application for life insurance that collects everything you need to provide a quote.
Or maybe you don't need more information until after the initial call. A team member might complete the intake form on the call or email a link to the client after the call.
The takeaway is to place the form where it can further the conversation with a good lead.
An Example Use Case with Keap:
One of our recent clients, WTE, sold tickets to live events. A contact's first introduction to the company was upon ticket purchase. We then used intake forms strategically in the buyers' journey to move them along to the next stage.
After the initial purchase, the goal was to sell more tickets. If they never bought again, that was okay. They stayed on the email list for events.
If they loved the events, they bought more and brought friends. After multiple ticket purchases, we emailed them a survey. That survey was an intake form that asks their interests. Were they interested in becoming a speaker? Were they looking for other ways to get involved? Each answer led down a different follow-up path.
Each path had different benefits and options, some included memberships. And each path and stage of the journey had a different intake form for that part of the program.
The membership path provided specific benefits, including coaching, but also progressed them towards franchise ownership. Only active members that met certain criteria were offered the option to buy a franchise.
These progressions were all managed with intake forms and little human intervention. The system required the client to meet certain criteria before it offered them the next stage. We then timed those offers to ensure a higher conversion rate at each stage. And each new stage of the journey required a new form.
These stages and intake forms allowed contacts to self-select the path they were on. The forms didn't replace human connection, just automated the administration of that process.
For various upsells, these forms meant investing less time to deliver the services. Time that could now be invested into the management of the live events. It also freed up time to focus on the business and a growing franchise model.
Final Thoughts
A well-timed and delivered intake form will support the goals of the company. And it will make it easy for a prospect to continue working with you. The best forms are engaging and have a quick follow-up. They create a quality experience for your prospects.
Your most valuable assets are time and the quality of the experience for clients. And Intake forms create a consistent, measurable, and engaging system for optimizing your clients' experience while saving you time.
Author Bio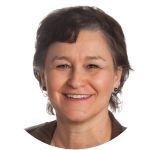 With a background in Marketing and System Analysis, Nancy Seeger is a Keap sales and service expert who builds business growth engines. Her focus is on optimizing marketing channels, including email marketing, digital marketing, and strategy.
Check out Seeger Consulting Inc for her workshops, small business training to gain the freedom of being an entrepreneur.