Email is an integral part of any business. Think about it: If you didn't use email, would you have been able to achieve what you have with your business? Chances are, the answer is no.
One of the most valuable things about email for business is its automatic record-keeping capabilities. Unless deliberately deleted, all correspondence is saved and can be archived indefinitely (or at least until you max out your storage limit). For service providers, this means valuable access to all customer email interactions that can help in making a sale, confirming an appointment or service request, providing proof of agreement, and so on.
Of course, as your business and list of clientele grows, this value starts to diminish. When you receive a few hundred emails a week, even search filters won't always help you dig up the most important or pertinent info you need. Plus, there's little time to wade through your inbox to do so.
That's why Keap is launching Email Sync, an integrated way to see and track all your client email communications in one place.
When you connect your existing Gmail, Outlook, or Microsoft Email account to Infusionsoft, any incoming and outgoing client email correspondence can be saved to their client record in the Infusionsoft app. This helps to provide you with a complete, up-to-date picture of all communication and activity (tasks, invoices, etc.) with your client, right at your fingertips, so you can respond quickly and intelligently every time.
Plus, by having a record of all your client's communication and activity with you in one place, you'll be less likely to miss or misplace emails and fail to respond quickly and accurately to important requests from leads and clients. No more digging through a constant scroll of emails to find what you need—Keap Email Sync puts it all right at your fingertips.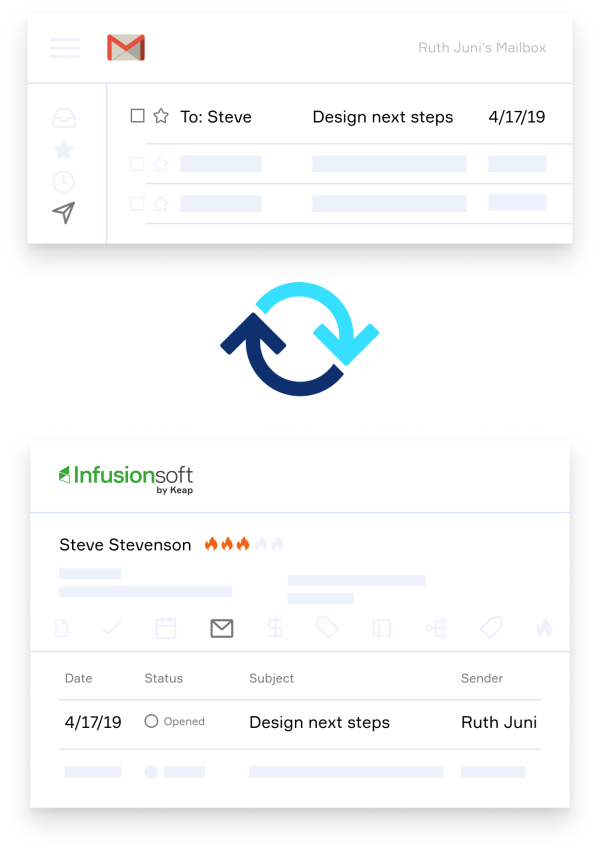 It is important to point out, however, that email correspondence through email sync can only happen one way: While emails sent and received through Gmail and Outlook will show up in your Infusionsoft app, emails sent from Keap will not sync back to your Gmail or Outlook inbox.
Keap email sync is just another way Keap is helping millions of small businesses succeed, by helping them stay organized as their business grows.
Want to learn more about how email sync can help you close more leads and provide great service? Check out our interactive demo.