You've got your expanded list, automation tools and growth strategy in place. Now it's time to execute by putting your first automated marketing campaign into action.
There are multiple time-tested automated marketing campaigns that have seen success for online businesses across industries. Try one of these seven automated marketing campaigns to grow your revenue.
1. Abandoned cart
Abandoned carts are one of the most frustrating roadblocks for retailers to overcome. However, abandoned carts are actually one of the best opportunities you have to close a deal.
These visitors are one step away from becoming customers; they often just need a simple nudge to convert. Send an abandoned cart email to visitors within one day of their visit to remind them to finish their purchase. Include a photo and description of the item so they will remember, and ideally fall in love, with the product all over again.
You can either accomplish this all in one email, or make a campaign of it by following up three to five days after the first email and including an incentive to return to check out. A 10 percent discount may be the small push they need to complete their purchase.
Here is an example of a BigCommerce out-of-the-box abandoned cart email from That's It Fruit.

2. Promotional offer for discount customers
Some customers only buy items on sale—and that's OK. While they may not be your customers that have the highest AOV, you do already know what drives them to make a purchase, and that in itself is extremely valuable information.
Send them emails featuring items on the sale rack, especially ones that relate to products they've purchased in the past. Make sure to include the discounted rate to alert them that they are getting a good deal.
3. Promotional offer for high AOV customers
You know your high AOV customers are some of your most valuable. Make them feel special by presenting them with their own promotional offer campaigns. Using data from their past purchases, send them discounts on product bundles or send them ideas for products related to items they've purchased in the past.
For example, if you're a clothing brand, send them a campaign featuring shoes, jewelry, and accessories that could match an outfit they've recently purchased. You can also give them a discounted rate if they purchase the entire bundle of accessories.
4. Win back
Haven't seen one of your customers in a while? Let them know you miss them with a win-back email.
This type of email is a good way to build your relationship with a customer, showcase the personality of your brand and let them know you value their business. You can also include a discount code to further influence them to return to your site.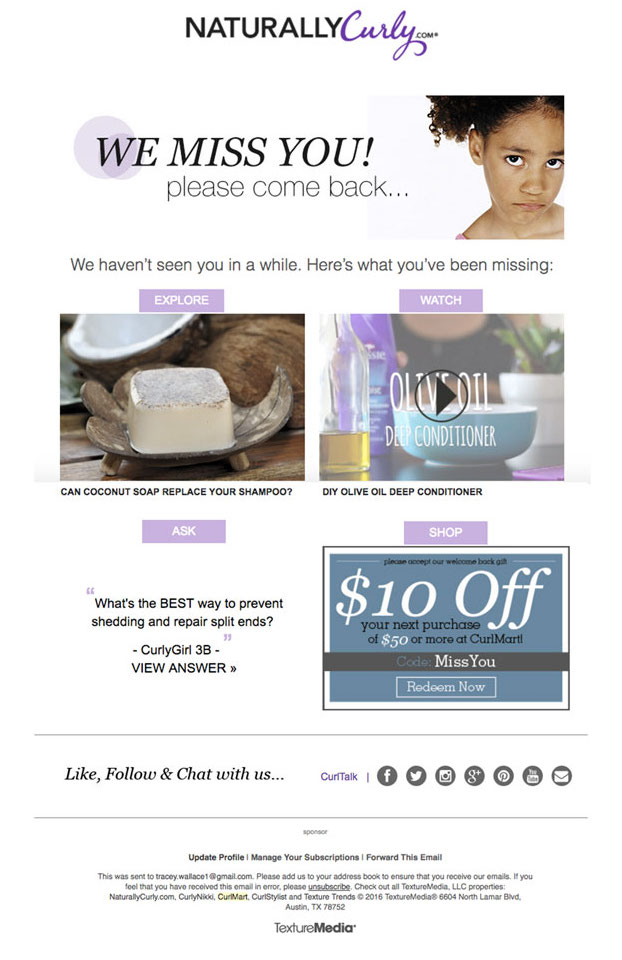 5. Life event
Birthdays, holidays, and customer anniversaries are all great times to show your customer you care. This is your chance to personalize customer experiences, which can set you apart from competitors. Make sure to include a birthday or other life event slot on your newsletter or contact forms so you can automate these campaigns. Include a discount code they can use on their special day.
6. Product or category follow up
After a customer makes a purchase, you can follow up with related products to what they purchased or products within a similar category. For example, if they bought a swimsuit, you could garner a cross-sell by emailing them some of the swimsuit coverups, beach towels or vacation wear collections you offer. Cross-selling emails on average have a .55 percent conversion rate and 6.84 percent click-to-conversion rate, according to BlueCore.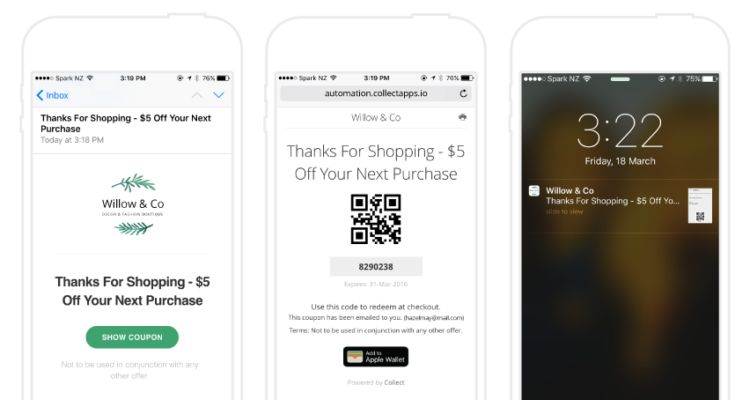 7. Receipt follow up
Did you know receipt emails on average have one of the highest open rates, with more than 70 percent of customers clicking on them? As stated earlier, this is a huge opportunity to reach an already attentive customer base by cross-selling items related to what they've already purchased.
8. Replenish
If you're selling any type of item that will run out, replenish emails are incredibly valuable for keeping customers coming back for more. Whether you're selling face wash or specialty trash bags, figure out when your customers are likely to be running low and set up automated email campaigns with a link to re-up.