"People influence people and there's no stronger influence than a recommendation from a trusted friend. A trustworthy referral influences your target audience more than the most powerful broadcast message. A loyal referral is the Holy Grail of marketing." - Mark Zuckerberg
Have you ever imagined stumbling upon a secret marketing strategy that top brands like Google, Tesla, and Uber use to reach targeted leads? And, if so, how it'd boost your business to a new level?
Well, you no longer have to daydream about it, as we've found it and we'll show you how to integrate this powerful advertising tactic into your business for amazing conversions.
If you're still wondering what this Holy Grail strategy is, it's referral marketing.
Every marketer swears by word of mouth marketing. But what most marketers fail to understand is that word of mouth advertisement isn't something you have to do completely by yourself. You can get your customers to spread the word for you. And if you do, you'll find it's highly effective.
Think about it—would you buy a product or service because you saw an ad on a social network site or because your best friend told you they bought it and it's an amazing product?
You'd most likely buy it for the second reason, but here's the catch. What if your friend never told you about the amazing product? There'd be no buy and you probably wouldn't be aware of the product.
Check out these referral candy infographics that show the statistics as to the number of potential referrals and leads your brand would miss out on without a referral program even if customers are satisfied with your offer.
With that noted, let's look at the various ways you can integrate referral marketing into your online business as the top brands do for maximum ROI.
Choose a relevant incentive for your offer
In the referral programs universe, there's no receiving without giving. You'll have to whip up an offer with the right incentives. Step into the shoes of consumers. For what are they searching? What is the best incentive to move them to show off your product to a confidant or friend?
Some brands offer flat payments if their customers refer their friends, while others create contests that motivate customers to compete in bringing in leads.
Ecommerce brand Greats offers a smart referral program that's an excellent example. It offers a $10 store credit incentive to friends and advocates.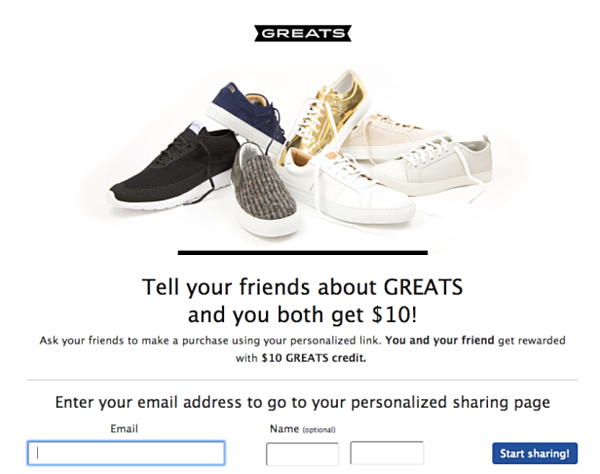 Greats is aware that its customers love shopping so it gives them free cash to shop with their invited friends. That's the perfect example of a right and profitable incentive. The customer gets $10, the lead gets $10 and they shop together.
Make the referral program seamless
As you build a successful business, never make things hard for the customer. One of your major goals while integrating a referral program should be to make the process of signing up, referring friends and claiming rewards as simple as possible.
There are 2 ways to achieve a seamless referral program:
Make it shareable: These days, everyone's on the web, so you'd want to ensure that your program can be shared on social platforms. If your incentive is substantial enough for customers, there'll be enough motivation on their part to put the word out there.

Make receiving rewards easy: The fewer hurdles your customer has to conquer, the better. Regardless of how loyal a customer is, they won't want to be part of your referral program if they find out there are 5 more steps before they can get their reward.
A perfect example of a seamless reward system is the 1 used by Starbucks Rewards, which is 1 of the most popular loyalty programs globally. You can literally access the rewards of the program via notifications from a mobile app.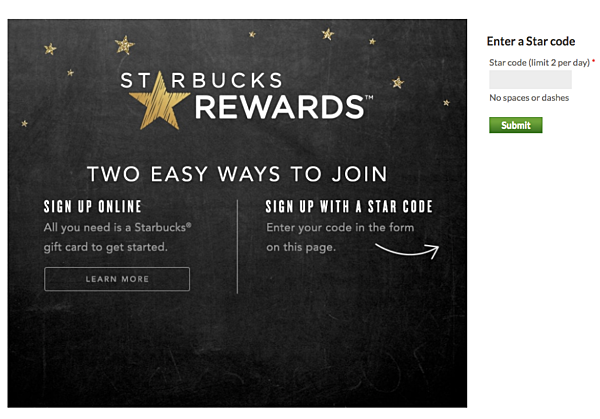 The Starbucks rewards program is so successful that in 2016 reward members loaded $1 billion into their cards.
Get the word out
Building a referral program and running it isn't the end of the road, you've got to promote it just like you would a product before you can get anyone to be a part of it.
The easiest way to do this is via time-based or triggered email campaigns. For example, some days after a customer makes a purchase, you can send them a triggered email encouraging them to share your referral link to get discounts on their next purchase.
Keap is a great tool you can use to manage your outbound emails. Check out this extensive review of the tool.
Other common methods include announcing through your social media platforms that a referral program is out or by creating contests via social media as well.
It's also a best practice to include a mention about your program at the order confirmation page. This is a great time to capture your customers because they just made a purchase and are most likely feeling good about that and willing to spread the word at that time.
Examples of referral programs from top brands
Dropbox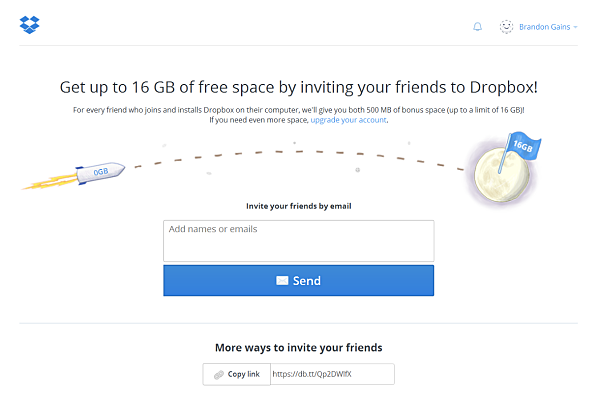 Dropbox has 1 of the more popular referral programs and it works on a simple idea; give customers incentives that complement why they're customers. The program gives customers and their friends an additional 500MB to 16GB free storage space.
The brand was inspired by PayPal, which was already running a 2-way referral program in which both people were rewarded. Dropbox jumped in, and offered referral rewards to both customers and friends.
The results were phenomenal—they increased their sign ups by 60%, and 35% of their daily sign ups came from their referral program.
PayPal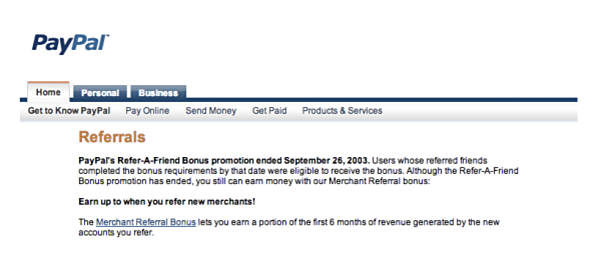 PayPal's referral program helped the brand hit a 7% daily growth and this saw its customer base rise to 100 million people. The program turned out to yield much more in terms of marketing ROI than the typical marketing formats.
The program involved PayPal paying customers to invite their friends and after the target numbers were attained, the program was stopped.
Their model was simple—people using payment processors would find bonus cash a good enough incentive to spread the word about them and earn their rewards.
Have you started prepping for 2020 yet? If you don't know where to start, grab our strategic planning kit for your small business: https://t.co/7ZIMIgcfEM pic.twitter.com/8pqLtaGU6i

— Keap (@KeapGrowing) December 7, 2019
Conclusion
Now that you have the know-how to integrate a successful referral program into your online business, what's the next step? Implementation!
Get to work using the various ways mentioned in this article to build a powerful referral program that you and your customers would be happy to promote.
Keep in mind that your program must be promoted just as you would promote any other product to get meaningful results.
Spread the word about Keap and earn cash. 💲 💲 💲 For everyone you successfully refer to Keap and Infusionsoft by Keap we'll pay $100! Get started below👇 https://t.co/4UEpIADu44 pic.twitter.com/tlFiRQtmHV

— Keap (@KeapGrowing) December 12, 2019