According to recent studies, more than 627,000 new businesses start up each year.
That means in 2020 alone, more than half a million potential competitors will come into existence. On the flip side, almost 600,000 businesses close their doors each year, too.
Starting a new business and finding success isn't easy. Whether it's your first business, a side hustle, or your fifth attempt at the next big thing, setting yourself up for success is key. Proper planning and preparation will always help you succeed. With that in mind, here are four ways to set your new business up for success in 2020:
1. Have a clear company vision and value proposition
One of the major reasons new businesses fail is a lack of concrete direction regarding what you do, why you do it, and how you provide value for your potential customers. When starting a new business, it's tempting to explore dozens of avenues. Your passions are deep and you're ready to offer your services. But extending yourself into too many avenues only dilutes your value and clouds your company vision.
Instead, focus on a specific offering and provide the best value you can. Communicate this explicitly in your company vision and value proposition.
One of my favorite examples of this is You Can Be Found: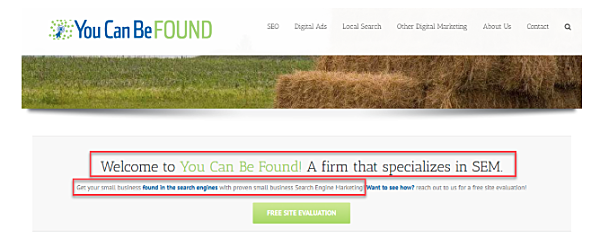 Being a search engine marketing agency, it delves into multiple offerings. But, it still makes it incredibly simple to understand what value it delivers: "A firm that specializes in SEM."
EachNight offers a stellar example of a clear value statement, and its immediately visible when you land on its site. It also communicates knowledge in multiple subjects without complicating it for the user viewing its content: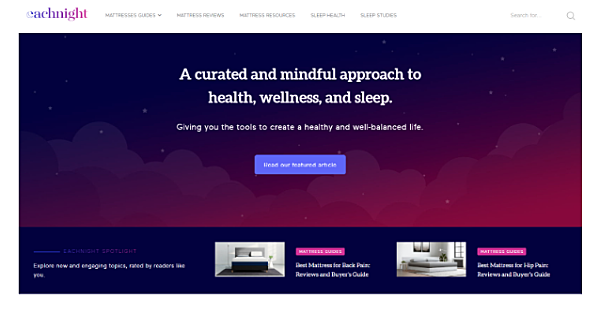 When setting up your new business for success this year, be clear, simple, and communicate value.
2. Use the right sales tools
When setting up your new business for success, you need to use the right tools to streamline complex processes like analytics data, calendar integrations for easy consultations, and a CRM such as Keap for leads and sales data.
In the digital era, interactions don't just happen via the phone. Customers are making more touchpoints with your business than ever before. Whether it's engaging on social media, reading your blog content, or clicking on a lead magnet, you need to keep track of these engagements to provide direct insight into what they're looking for and how you can solve their problems.
Be sure to get set up in a CRM to start tracking these engagements, creating contacts, and following up at the right time. Be prepared in every sales call and when following up with leads. Without this information, it can be hard to keep track of what leads want and when they want it.
On your website, ensure leads can easily contact you, schedule meetings, and learn more about your product. For example, GainTap integrates calendar software directly on its website to make it easy for leads to convert:
Want to be more effective in closing sales in 2020?
Be prepared with the right tools every step of the way, from lead gen on your site to direct sales calls.
2020 is all about a vision of the future and how small business owners can thrive throughout it by using savvy, popular and effective marketing techniques. Check out our 2020 Small Business Marketing Trends Report👇 https://t.co/yqKlLPLcEw

— Keap (@KeapGrowing) January 2, 2020
3. Jump-start your company blog and master SEO
No longer are the business days of solely outbound marketing.
While cold calling still works, it's far from efficient at generating leads. Inbound marketing helps you passively generate leads. And the best way to do it is by starting a blog and mastering SEO, which can help you tap into the 3.5 billion searches Google processes daily.
You're probably thinking: doesn't SEO take years to learn and more years to see real impacts? Absolutely not. This is a common misconception. According to Higher Visibility, you can see results in just three months of an SEO campaign.
To get the wheels turning, it's important to jump-start your blog. Blogging and targeting the right keyword searches will help you drive traffic in your niche.
For example, if you're starting a travel blog, you can research commonly searched topics, like Voyagers: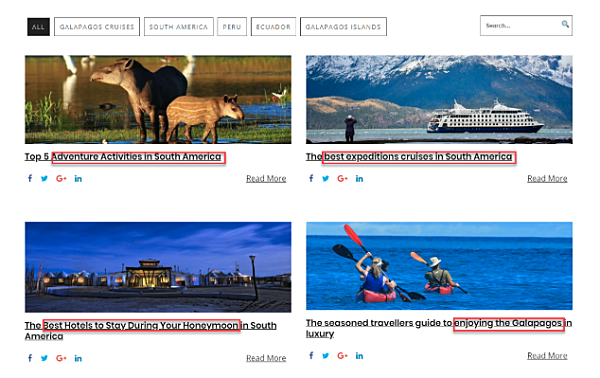 These are great examples of long-tail keywords that will have less competition to rank for. While SEO tools like Ahrefs, SEMRush, and Moz are great, they're also expensive. In the early stages, simply start by leveraging Google's own search tools.
Head to Google and search for topics that your potential customers might look for. Use the autosuggest feature to capture common searches, and turn them into blog posts: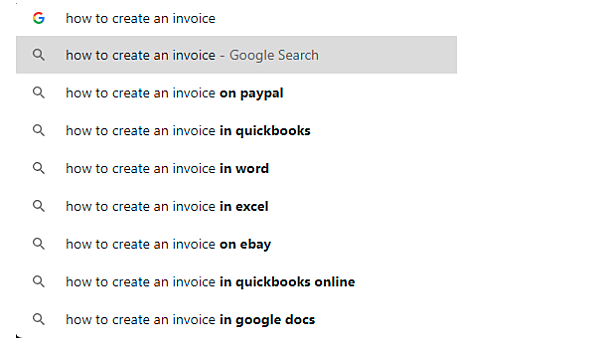 At the bottom of the search results, capture more keywords in the related searches box:

4. Streamline invoicing and accounting
One of the primary pain points in a new business is getting clients to pay on time and to stick to the terms and agreements. As a new business, you shouldn't do the work before you recieve at least some form of payment. This opens the door for potential losses of time and money.
Before you start any client work, be sure to create invoices and streamline your accounting from invoice to payment collection.
There are many invoice templates you can use on various free platforms from Microsoft Word to Google Docs and more:
While there are plenty of ways to charge customers, from PayPal to credit card processing, you'll likely need the following software:
Invoice templates or software (Freshbooks)
PayPal account linked to your business bank account
Payment processing software (Like Stripe)
This will allow you to draft stunning invoices, charge your clients, and process the payment directly into your account.
When it comes to getting paid for your work, don't expect the client to figure it out. Streamline your accounting to make the process as smooth as possible.
Conclusion
Hundreds of thousands of new businesses will start in 2020. And hundreds of thousands will close up shop.
The difference between success and failure in business is heavily based on planning from the early stages. Jumping into a new business without a clear sense of direction is a fool's errand.
Use these four tips to set your business up for success in 2020.
Spreadsheets hold information, and that's it. Upgrade to a tool that groups and tracks your leads and client info in one place while also prompting you to take the next step with clients. Try us free for 14 days: https://t.co/zjXXeSBJNh pic.twitter.com/HUsdDvbpYu

— Keap (@KeapGrowing) January 4, 2020