Content marketing is the heart of every successful digital marketing campaign.
Business owners know the significance of content and continue to invest substantially in content marketing.
While most businesses know they need to build a steady stream of relevant and valuable content to drive traffic and retain their audience, not everyone can achieve this.
That's where content marketing agencies become essential.
If you've been thinking of starting a content marketing business, read on to discover tips that will help you start and distinguish your agency from similar businesses.
1. Define Your Niche
First off, 90% of all companies use content marketing in their overall marketing strategy. Specifically, 91% of B2B marketers and 86% of B2C marketers use content in their marketing campaigns. It's pretty clear: websites that use content marketing see more conversions than those that don't.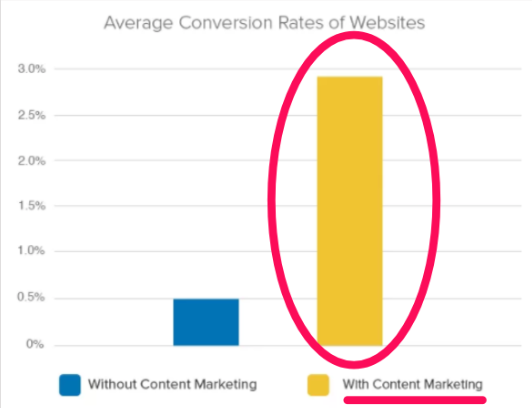 The growing demand for content marketing creates fierce competition among content marketing companies.
But there's a simple way to beat your competition: niching down.
When you focus on providing content marketing services in a specific niche, you'll quickly differentiate yourself and find the competition less severe.
So, instead of providing generalized services, narrow down to a specific industry.
Are you experienced in a particular field? Start offering specialized content services to various businesses in that area.
Examples of the areas you may want to focus on are:
SaaS
Real Estate
Law
Home improvement
Construction
Dental clinics
Interior design
Sure, some of these niches don't sound sexy, but they have vast untapped potential.
So, move away from the already-saturated market and start targeting businesses in a specific field. That way, you'll produce highly specialized and expert content services and strategies that generic agencies won't.
2. Launch a Website
Sounds obvious, but you'll be surprised at the number of entrepreneurs who get stuck at starting a content marketing business just because they can't wrap their minds around building a website.
The rest of this guide's steps won't work unless you build a site for your agency. Creating a website starts with choosing a domain name and a hosting service.
A free hosting service is not an option, as most free hosting services are typically slow and lack useful features.
I recommend you build your website on a reputed content management system like WordPress and self-host it. You may want to invest in a premium WordPress theme as well.
After setting up your site, invest in quality web design. Don't forget to work on on-page SEO as well, to help foster the website's visibility in search engines.
3. Research and Set the Pricing
I would say the importance of this step is often either overlooked or noticed too late in the building process of content marketing businesses.
Chances are, you're a freelance content writer looking to start your content writing agency.
But the pricing of your services as a company won't be similar to your rates as a freelance writer because an established company has more expenses than an individual freelancer.
However, this doesn't mean you should overcharge for the sake of making a profit; it might work against you.
So, how do you decide what to charge?
Start by researching the fees that other content marketing agencies charge.
Use your findings to strike a balance between profit and competitiveness. Your rate is an essential factor in making you stand out from the competitors, but it's not the only factor.
Differentiate your business by charging the same fees as other service providers, but provide top-grade work and additional services to attract prospects.
Of course, you also need to employ other lead-generating marketing techniques, other than pricing, to promote your agency.
4. Offer a Broad Array of Services for Each Budget
When just starting, it's best to have a wide variety of services to cater to the unique needs of your varying prospects.
You'll realize that some clients want to handle most of the work and only need guidance with their overall content strategy.
Others may require that you take over their content strategy, including writing and publishing it.
On the other hand, small companies may want to try things out before purchasing a more expensive package.
That's why you may want to come up with several packages to enable small businesses to benefit from your expertise without spending a fortune.
Here are some of the content marketing services you may offer:
Training the in-house content marketers
Content writing and promoting
Email marketing
Social media marketing
Setting up and tracking web analytics
SEO and web design (some clients prefer hiring a single agency to handle it all)
5. Use a Powerful Lead Magnet
A beautiful blog and a robust social media strategy will build your brand identity, grow your reputation, and boost your business visibility online, but none of these metrics is tangible.
And none of these strategies will lead to sales unless you know which users are interacting with your content.
That's where a lead magnet comes into the picture. With the newly generated leads, you can start growing your email list with the right email marketing service and nurture those leads while increasing traffic to your website.
You just need to optimize your landing page and add a lead magnet to it.
Examples of Lead Magnets to Create
Based on your prospective clients' persona, you can choose a lead magnet format that works well. Examples of lead magnets include:
Ebooks and whitepapers
Guides and cheat sheets
Hosting webinars
Website audit and analysis
A short email course
Audiobook
Case studies
Characteristics of a Strong Lead Magnet
For your lead magnet to result in any leads, it should have the following features:
Ultra-specific - Whichever format your lead magnet takes, it should provide a reliable, valuable, and relevant solution to a specific problem.
Offer one enormous promise – Narrow down on a specific burning question your prospects want to be solved and show them how to solve it. A good example is Keap's landing page CTA, which promises to provide users with tools that help them get "more done with less work."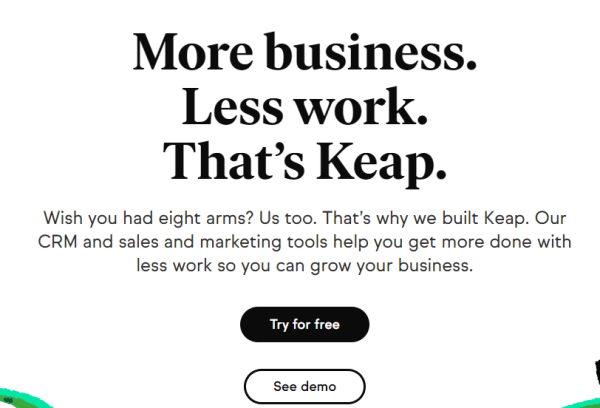 Deliver what you promised – As soon as people opt-in for your free offer, send them what you promised immediately, whether through email or as a direct download.
Free and actionable – The lead magnet should cost people nothing, except for their contact details. Create freebies that people can download to join your email list.
Easy and quick to use – Don't offer an email course that will take three months because that's too long for anyone to benefit from the offer. If it's an ebook, make it short also.
High perceived value – Offer something difficult to find on forums and other platforms.
With a properly designed lead magnet, you'll offer something valuable to your prospects, and they will readily share their email or even phone number.
With the contact information, you've got an opportunity to engage with your leads, follow them up, and ultimately persuade them to purchase your content marketing services.
6. Market Your Business through Content
If you want to demonstrate yourself as an expert in the content marketing niche, it's essential to show prospects that you know what you're doing. And the perfect way to stand out is by becoming a content leader in your industry.
To express your expertise, you should:
Look for unique blog post ideas and produce stellar content on content marketing
Have an active social media presence
Build an email list
Guest post on renowned industry websites
Establishing your influence in the content marketing space will make prospects trust you and feel more comfortable to hire you.
When creating content for your blog and social media platforms, conduct original research and write content based on that.
You can run a study or survey and produce various content types, such as blog posts, social media posts, infographics and white papers.
Generating content from original research is likely to get you more social shares and backlinks, which will amplify your SEO footprint and boost rankings for your company and clients.
7. Decide between Working with Freelancers or an In-House Team
You can choose to hire in-house employees and get a couple of freelancers to help. Most agencies do the same and are thriving.
The other option is to work with freelancers and editors only. If you go this direction, it's best to invest in long-term relationships. Training may take time and patience, plus it will require some hands-on involvement on your part.
For consistency in writing voice and style, you may want to work with the same writers for all projects. While hiring in-house staff is expensive, you can consider adding them to your team as your business grows.
Wrapping Up
Starting a content marketing business requires proper preparation and research. Once you implement the above steps, you can embark on marketing your brand online. And as your business takes off, don't stop improving. Keep an eye on the competition, too, and strive to be a step ahead of them.
Ricky Wang is an online entrepreneur, blogger, and freelance content writer and marketer. He writes to readers about lucrative side hustle ideas and promotes the idea of creating an online business on his blog, rickywang.com. When Ricky isn't hustling, he's probably either trying to do a handstand or reading about entrepreneurship.