For many smaller companies, small business lead generation through email marketing is a frustrating challenge. Whether B2B or B2C, small businesses are continually on the lookout for strategies that promote high-quality lead generation and effective nurturing.
Your business website is perhaps the strongest weapon in your marketing arsenal that is leveraged to help the company reach new heights. While most businesses understand that lead generation is a high priority, especially when first starting, a majority of them fail to actually generate leads. And the few businesses that do succeed in getting some information out of visitors, like email addresses, often fail to properly utilize that information by bombarding potential customers with unnecessary marketing material.
Are you unable to make the most of your website or effectively use all the customer email addresses stored in your database? Allow us to take you on a journey that identifies overlooked email capture techniques and email segmentation tips to offer specific and useful content to customers.
Before starting the journey, check out how Keap can help you create powerful email communications.
Missed opportunities for email capture
Many businesses tend to overlook certain areas of their website where they could collect email addresses and generate more leads. In some cases, missing a single opportunity to collect the email of a prospective client can have a huge impact on your bottom line. Here are some tips to help you use your website to capture leads:
Exit pop-ups/interstitials
It's frustrating to see visitors leave your website without engaging.
Consider this: a potential customer has found your perfectly SEO'd article on the internet. While this person is on your webpage and getting tons of valuable information from your blog, they may just take that information and leave before you can convert them into a lead. It is likely that they don't know anything about your business and will move to a different website once they are done reading your article.
Exit pop-ups come to the rescue just when you need them to. A well-executed exit pop-up can entice your visitors to provide their contact information by offering them additional resources and benefits in exchange.
Additionally, they help increase the flow of leads by more than 600%.. Exit pop-ups help to keep your visitors engaged and prevent leads from bouncing off to a competitor.
Avoid interrupting a user that is still engaging with your page by only initiating the pop-up once the user is moving his mouse toward closing the tab or browser. This ensures that your pop-up only appears when the user is about to leave the page. By utilizing this exit pop-up strategy, you are giving one last attempt at converting a lead before they move on to another page.
Let's take a look at an example from Wishpond, a service that you can use to implement exit pop-ups. They utilize an exit pop-up as a way of generating leads for their exit pop-up service. Not only are they attempting to capture leads one final time, but they are also demonstrating how their service works.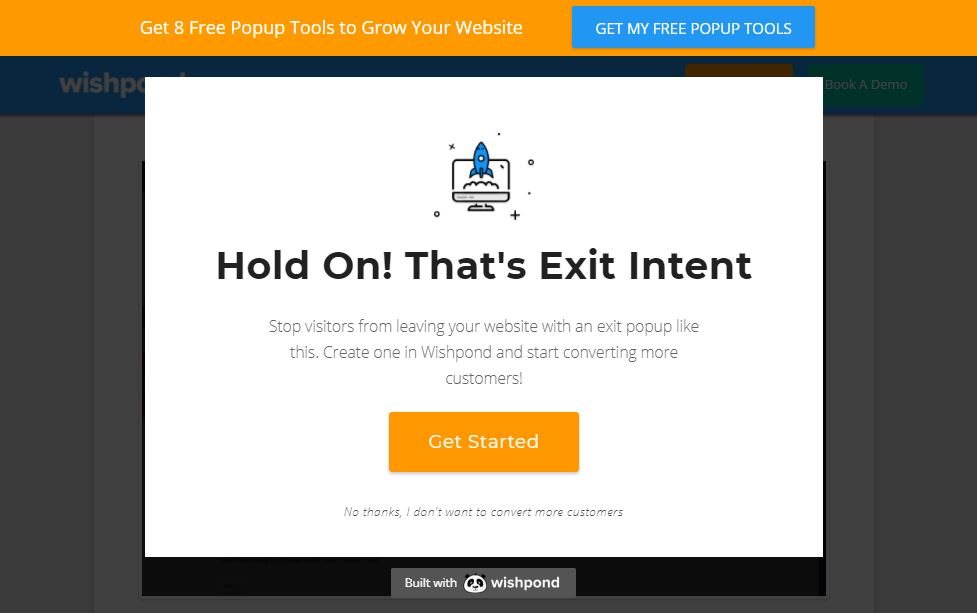 Image source
Call-to-action on blog posts
Strong calls-to-action (CTAs) are an important part of the conversion path and the process of lead generation. Without the help of properly executed CTAs, visitors to your website can face difficulty in determining what their next course of action should be. Include an effective CTA in your blog to direct your visitors to a form that requires them to enter their contact information in exchange for an offer, and help guide your lead through your marketing funnel.
Let's look at another example: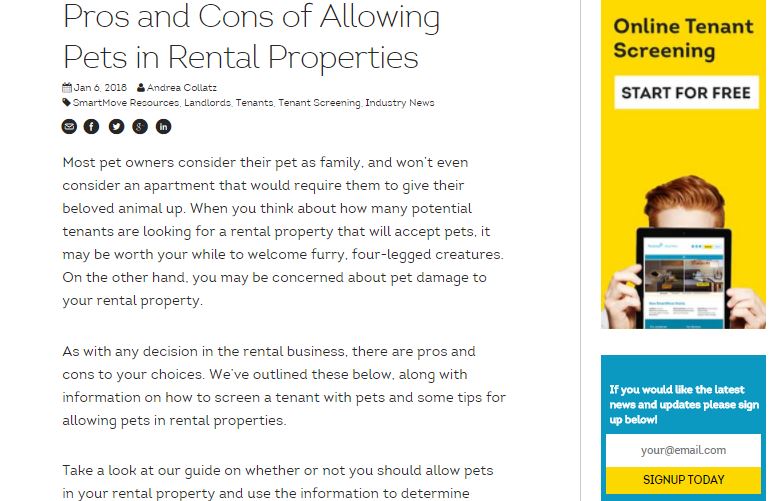 Image source
SmartMove, a division of TransUnion, does a great job of implementing CTAs on their blog. By offering two different CTAs, they capture users at various levels of the sales funnel. The top CTA (right rail of the above image) is for users that are ready to start using their product (i.e. converting the lead on the spot). The bottom CTA, on the other hand, is for users that are not as far along in the sales funnel and still want more information.
404 page
Did you know that the average lifespan of a web page rarely exceeds the 100-day mark? This means that even the most perfectly designed web pages can go bad over time due to changes in the permalink structure or any drastic alterations made to the content.
When visitors encounter a 404 page, they simply hit the back button and look for some other website that can help. While this error page can be a complete buzzkill, it provides you with the perfect opportunity to capture emails from your visitors. Try a tactic like this one from Coinlookup and offer your visitors a spot to leave their email addresses in order to receive assistance from your team.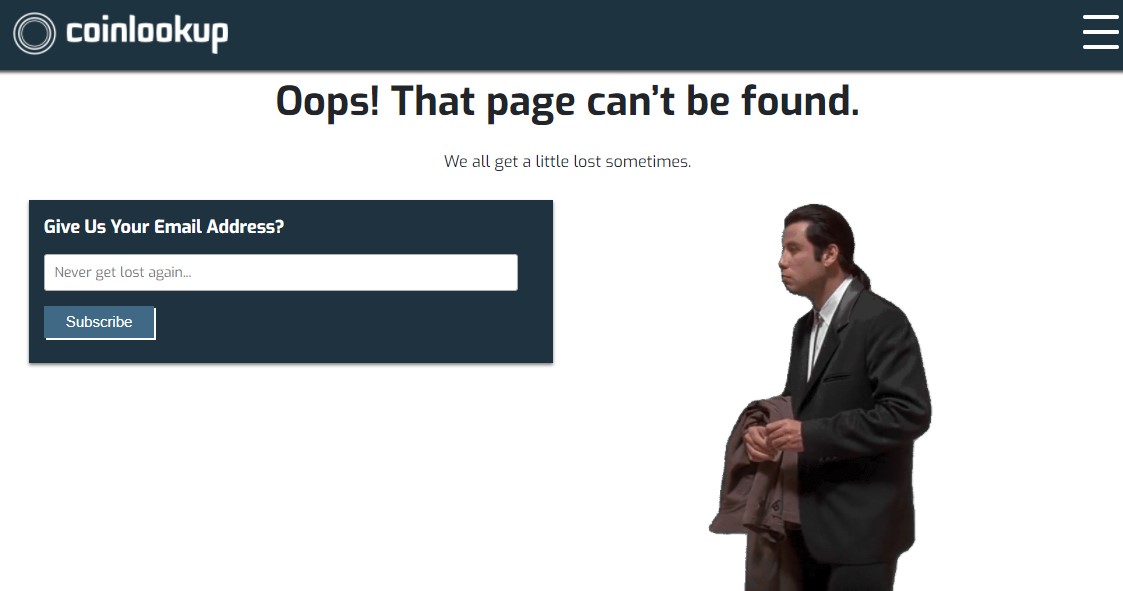 Reduce your bounce rate by carefully planning your 404 page with useful information that helps visitors understand exactly what has happened, and offer an immediate solution or provide a search tool to help them find relevant information on your website.
Discount offerings
Typically offered in a pop-up or banner ad, discounts are a great way to offer something of value in exchange for an email address. Additionally, discounts make it more likely that the user will return to your site and make a purchase. Determining what types of discounts to offer and when will depend on your products/industry.
Make sure not to overwhelm the user by offering a discount too soon into the visit, but also don't wait too long or the user might leave the page. It is a delicate balance of offering a discount that is enticing enough to capture the user's attention at the time when they are most interested in an offer. For example, VitaMedica serves the user a discount pop-up after the user has spent time on the products page and is clearly contemplating making a purchase. This discount might be the little push the user needed in order to convert: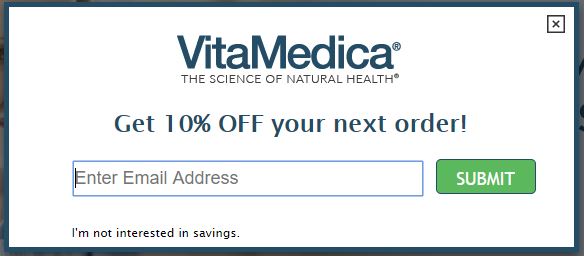 Image source
There are several additional ways to leverage your site to grab email addresses. The bottom line is not to disturb your visitors. Leveraging small business lead generation tactics that are disruptive to the browsing experience will result in lower conversions and a higher bounce rate from your site. Check out this resource from Kissmetrics for additional reading.
Segment your email list and deliver content based on segments
Whether you've been in business for a while and have acquired a long list of customer emails or want to utilize email capture techniques before going live, segmenting your email list is an essential component of successful email marketing and lead generation.
According to DMA, segmented and targeted emails generated 58 percent of all revenue in 2015. Segmentation allows you to categorize customers and send tailored content based on their level of engagement and preference. Visitors who provide their email after reading a certain blog post should be treated differently than those who completed a form on your website.
Here are three ways your business can take advantage of segmentation and deliver effective content to your customer base:
1. Position in sales funnel
Every business has its own unique sales funnel. Segmenting based on your audience's position in the sales funnel is perhaps the most effective way of customizing your message and providing relevant information.
Segmenting your audience in this way allows you to offer exactly what they need to stay connected to your business. People on the topside of the sales funnel represent an audience that is fairly new to your business and would best react to content like coupon codes, sales announcements, and information that tells them more about your business. On the other hand, people towards the bottom are those who are well aware of your business and its offerings and would better react to content like abandoned cart reminders.
2. Geographic location
Are you catering to clients from around the world? Segmenting your audience based on their geographic location can be another great way to tailor your messaging to groups of users. Different geographical factors influence buying decisions. While a person in the United States might be looking to get a sweater for Christmas, a person in Australia might want something entirely different. You must also factor in the time difference in regions, and schedule your emails accordingly.
Segmenting your audience based on their geographic location helps your business provide offers, news, and announcements that best suit their specific needs.
3. Past purchases
Monitoring past purchases can help you to segment your audience and take advantage of optimized targeting. Using this information, you can encourage customers to buy similar products, re-engage with those who haven't purchased in a long time, and offer useful information (like shopping tips & tricks) based on their purchasing habits and individual needs.
With the proper segmentation of your leads, you should be able to keep your customers engaged and offer them an unmatched experience. CRM tools, such as Keap, have made email segmentation a breeze. Through segmentation, you make an impression on your prospects by sending emails to suit their specific needs and interests without having to spend thousands of dollars on hiring marketing experts.
The takeaway
Almost every business, at one point or another, has struggled to engage with their target audience effectively. However, by optimizing the key areas of your website, utilizing different tactics to capture emails, and carefully segmenting your leads, you can help your business embark on the route to success.
Sam Wheeler is a digital business consultant with Inseev Interactive. He is an expert in digital marketing and data analytics. When not writing about e-commerce, you can find him off the coast of Southern California, surfing the evening swell.