With the rise of lead generation media channels, there are many resources available for companies to get the word out about their products and services. Depending on how long you've been in business, getting familiar with the modern-day promotional tactics can result in media-boosting strategies.
The four main lead generation tools we will outline are earned media, owned media, shared media, and paid media. Chances are, you may actually be using at least one of these top PR strategies without knowing it.
Here are tips on how you can leverage earned media, owned media, shared media, and paid media in the most effective ways:
Earned, owned, shared, and paid media defined
What is earned media?
Earned media is publicity gained by word-of-mouth, online reviews, blogs, press releases, and influencer relations. It's a third-party endorsement of your brand that usually manifests itself in the way of referrals.
This is the most cost effective form of lead generation media if you're lucky enough to own an establishment with the kind of rapport that has gained a widespread reputation, taking the pressure off having to promote your product, therefore generating prospects organically.
What is owned media?
Owned media is content your company creates that you claim as your own. Examples include blog posts, whitepapers, videos, podcasts, case studies, ebooks, and your website.
What is shared media?
Shared media is basically any content posted to social media regarding your brand, which businesses have adopted as their most cost effective PR platform of choice. Shared media includes posts to social sharing sites such as Twitter, Facebook, LinkedIn, Pinterest and Instagram.
What is paid media?
Paid media has shapeshifted over the years, as it was originally manifested in the form of print advertising in newspapers, then radio advertisements, then TV commercials. While all of these paid media tactics are still prevalent today, it has evolved into something much more digital and direct.
Paid media can now be recognized as native advertising, social media campaigns, Google Adwords, and retargeting.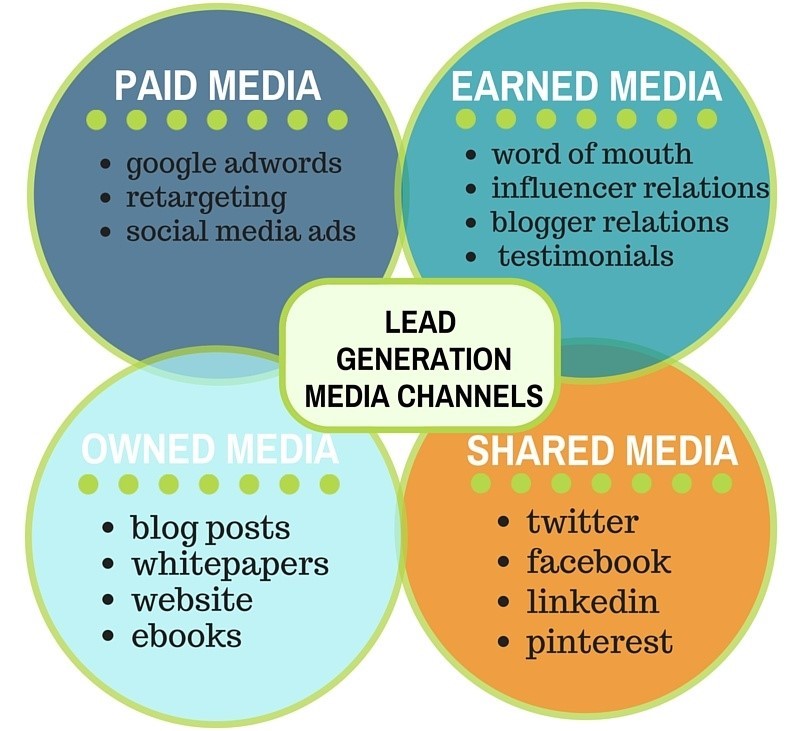 Source: Marx Communications
Using lead generation media channels to your advantage
Earned media
Earned media is one of the channels you have the least control over, and yet, it's your ultimate goal to reach. It's your responsibility to reach out to media outlets to help spread the word about your brand.
One way is to join HARO (Help A Reporter Out) where you'll be notified when a reporter is looking for an industry expert to quote in one of their stories.
Also, be as actively engaged with thought leaders on social media as you can. Being involved on social media sites such as LinkedIn makes it easy for you to leave positive endorsements for those you've collaborated with in hopes that they'll reciprocate by endorsing your brand or product.
Earned media is the most desired form of lead generation due to its organic nature. If enough people are discussing your brand, traffic will flow through your content and website naturally.
Owned media
Owned media gives you complete control over the content you create. However, you want to generate your media with a solid objective in mind. Are you looking to find new leads? Foster existing leads? Increase awareness of your brand?
Once you've established your purpose, you can create content that's conducive for whatever type of traction you're trying to gain. Using as much visual content as you can will help grab the attention of your audience much more effectively; you can use videos, images, GIFs, and infographics.
When you're writing copy in the way of a blog, ensure that you're employing Search Engine Optimization (SEO) practices so that your content shows up on the first page of Google in a search. Use keyword tools such as Google AdWords to identify short tail and long tail keywords that are most frequently used to help you write compelling headlines that will boost your analytics and increase traffic.
Check out Keap's Lifecycle Automation Assessment to determine where your business stands among the industry's top performers.
Shared media
In order to leverage shared media in the most efficient way possible, it's important to know your audience. For instance, an infographic would be more conducive for a platform like Instagram over LinkedIn. A whitepaper may be more appropriate for LinkedIn over Facebook.
Gauging your content and finding the perfect home for it will help capture the attention of the right audience at the right time. It's also important to know when to post content, as there are peak times to consider. Oberlo created one of the more impressive infographics that breaks down the best times to post throughout the day. Adhering to these timeframes will give your content much higher probability for exposure. See below:

Source: Oberlo
Paid media
While not the most desirable, many companies use this method as a last resort. Paid social media campaigns' reach extends beyond those who aren't just interested in your personal brand, but in your industry. Paid media makes it easier for prospects to find you in a search or on social media with sponsored posts and native ads, which are blog posts assuming the role of an advertorial, which is paid content intended to reach a larger audience.
Properly integrating lead gen media channels
Here's where it all comes together. Putting forth as much effort as you can into your owned media, whether it's a whitepaper, an ebook, a native ad, a video or a podcast, one of the elements your content would need is to reflect a trend. Distributing content that's influential is likely to gain the most traction via word-of-mouth sans having to resort to paid media. Staying on top of knowing what your audience is looking for is also an effective tactic for employing SEO into your content so it shows up in a search.
However, we live in a digital battlefield. There's so much competition online that it's rare when organic traffic is bestowed effortlessly upon those who are just starting out. Utilizing the options of paid, owned and shared media are helpful resources to fall back on should your brand need a little boost.
Speaking of boost, investing in boosted content on Facebook and Twitter are also effective ways to ensure your posts receive a desired amount of traffic. Using sites such as Buffer or Hootsuite give you control over how much you want to invest in boosted posts and how frequently your content is exposed to your audience. Their scheduling features allow you to determine an effective timetable that will push your content to the top of the feed in the most organic way possible, keeping your brand top of mind for consumers.
The goal is to work through all of the lead generation media channels that will ultimately put your content front and center, solely gaining traffic exclusively through earned media.