Anyone who's ever used Pinterest for a certain amount of time knows how dangerously addictive it is. You can spend hours pinning, creating boards, organizing your pins and not even realize how much time has passed. From a business point of view, Pinterest makes a great marketing tool, as you already have a built-in captive audience. All you have to do is make sure your business shows up in the feed.
Leveraging Pinterest's social network for promoting your brand's visibility to gain more exposure online can increase your website's traffic and generate more sales. While that alone can be effective, it's time for your business to up the ante with some powerful Pinterest tools that can contribute to a robust marketing strategy:
Pablo
Pinterest, much like Instagram, is based on visuals. Having said that, the Pinterest feed can be overwhelming at times with so much to look at. You want to ensure your business gets noticed, and the best way to do that is to make your pins more visually attractive. Standing out will more highly motivate your followers to pin and share attractive images associated with your brand.
Pablo, produced by Buffer, is a graphics tool that makes it easy to edit images from its selection of templates and filters. Some of Pablo's features include a text editor that allows you to add quotes, announcements, promotions and any other type of message you want to convey to your customers. You can choose from over 600,000 images or you can upload your own by inserting a company logo or graphic.
Pablo is also available as a Chrome extension so it is always readily accessible when it comes time to put together a marketing ad. Once your graphic is complete, it's ready to be shared on Pinterest. You can also hyperlink it so customers are directed back to your site, making it easier for them to take advantage of said promotion.
Some great eye-catching examples of promotional pins are demonstrated below by Floryday, Reese's and Target, respectively.
Floryday chose an attractive monochromatic backdrop that complements the pattern of one of its colorful maxi dresses it's promoting, demonstrating its light and carefree material by having it flow in the wind, very conducive for springtime.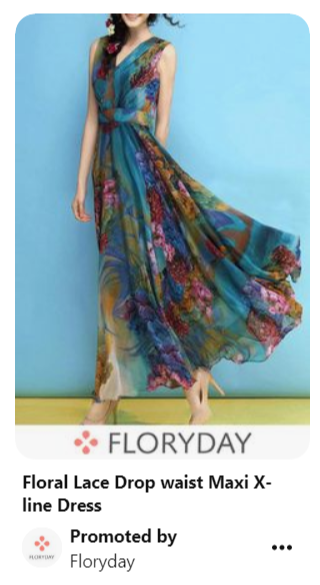 Reese's went with its recognizable color scheme, the always attention-grabbing orange and yellow backdrop that offsets a delicious chocolate treat. For this occasion, the company is promoting its ever popular chocolate and peanut butter Easter Egg. (Is it just me or do they just taste better when they're in the shape of an egg?)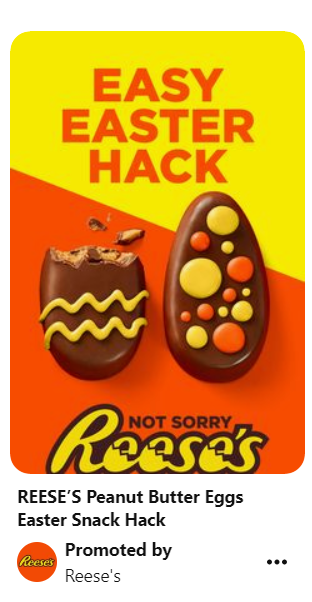 And finally, Target never ceases to impress with its innovative way in which it designs and formats its ads. This time it chose to go the collage route, promoting several items at once for the bedroom, office and living room. It also threw in a few light bulbs, emphasizing the importance of how a room just wouldn't be complete without proper illumination.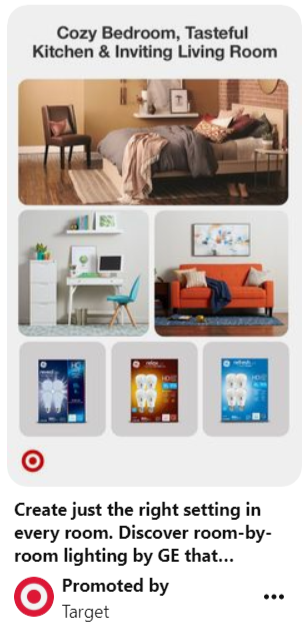 Pingroupie
One great thing about Pinterest is it caters to basically all tastes and preferences, making it rather conducive for just about any business that wishes to take part and include pins and boards in its marketing strategies.
That being said, Pinterest is also a great tool that helps expand your amount of followers and pinpoint your target audience. Leveraging a tool such as Pingroupie helps businesses locate the right groups for which to promote and interact with by getting an idea of which boards are the most popular. Group boards typically have a larger following and can help get your pins seen by more people at a time.
Just choose the category that best relates to your line of business and click search. The results will provide you with how many followers are in each group, when it was created and how many pins each one inhabits. Obviously, the more, the better. This is a great way to gauge which groups are continuously active on the site, because it is easy to let your activity lapse if you're not doing enough upkeep with the boards, and it's also a great way to start making connections and inviting more people to follow you and share your boards.
Once you've found a group board you want to join, simply email the owner of the group board and request to connect, or you can ask to join by commenting on a recent pin.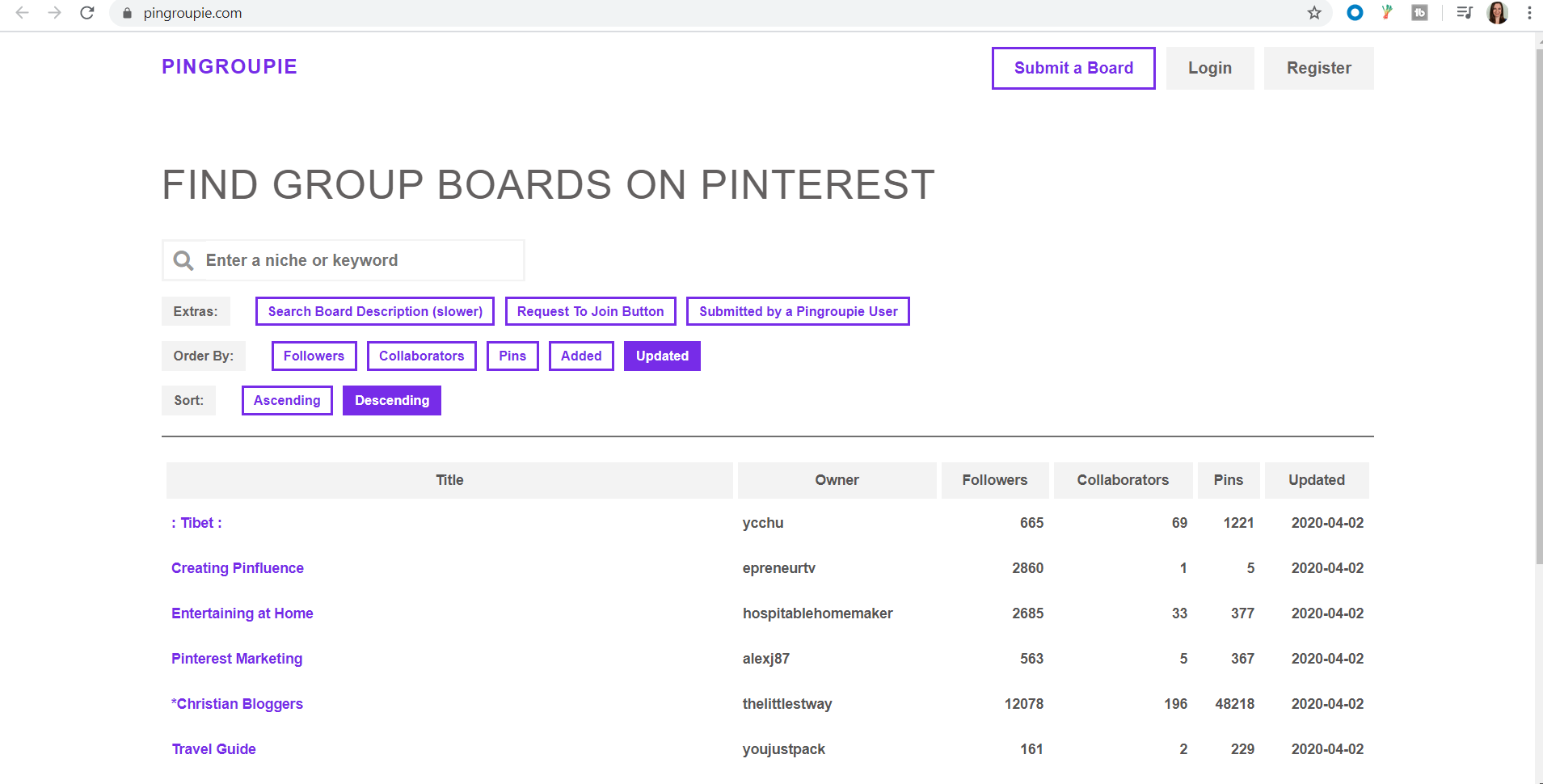 Tailwind
When it comes to marketing your business, automating as many tasks as possible will help reduce your workload and allow you to focus on more imperative tasks. Tailwind makes this possible, as it's a social media scheduling tool for Pinterest that also tracks your pins' metrics. You can schedule your pins to automatically post at the most optimal times to guarantee more engagement, reach and website traffic.
It allows you to create and schedule up to 10 pins from anywhere and schedule them with just one click. It also enables you to arrange your pins to post weeks or even months ahead of time with its Interval Pinning and drag-and-drop calendar features. For example, this would come in handy when you want to streamline your holiday season marketing strategy, having one fewer thing to worry about at such a hectic time.
Tailwind also provides a Browser Extension and Board Lists, making it easier to populate your queue on any site. Plus you get a chance to glance at your analytics for every pin and board, gaining a better idea of which trends are working and which aren't with its Pin Inspector & Board Insights.
Tailwind offers a free trial for first-time users who want to schedule up to 100 pins with no time limit. Otherwise for $9.99 per month, Tailwind offers one Pinterest profile, unlimited scheduling, 250 free SmartLoop posts and five free Tailwind Tribes.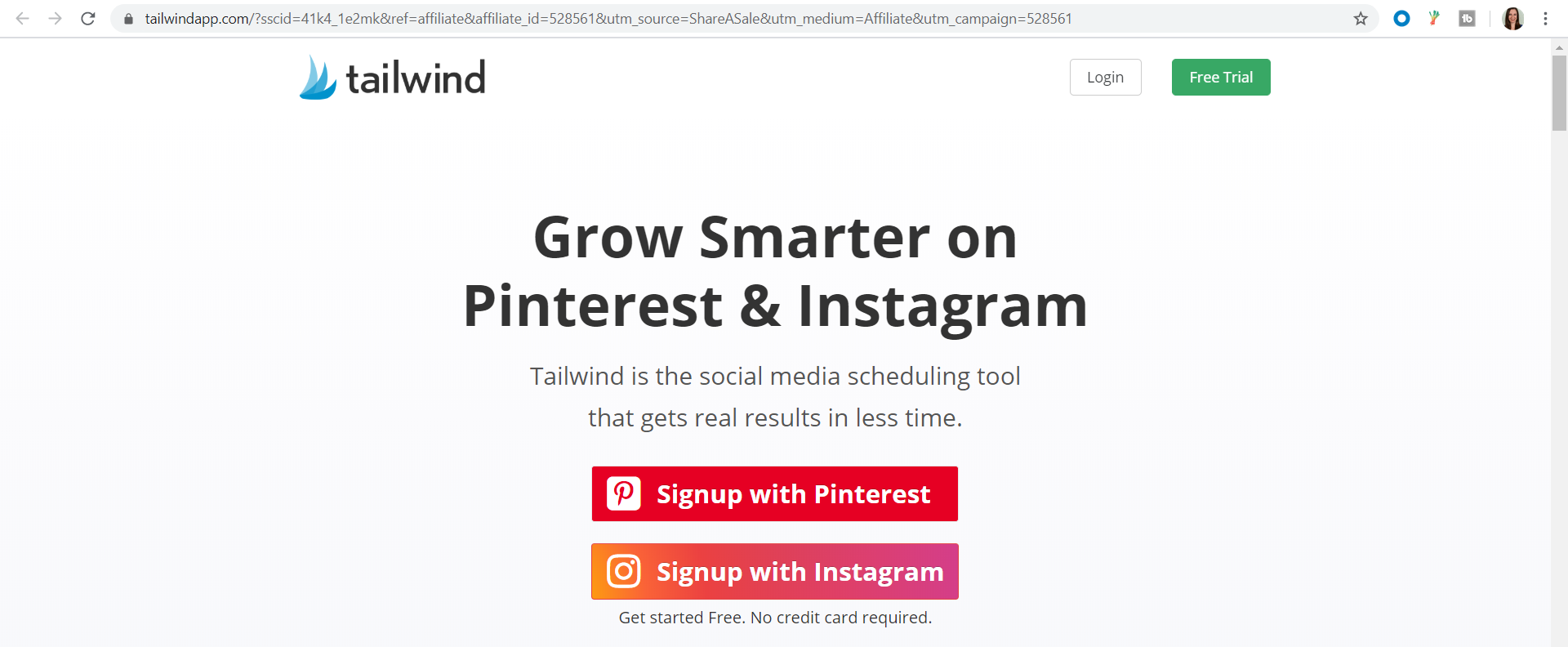 loop88
Finally, loop88 takes your Pinterest marketing strategy to the next level by helping your business develop a targeted profile that connects with influencers in your market. It determines your strategy, creatives and insight for developing shareable content.
loop88 has helped big name brands such as Brother, Fox, Home Depot and Sony manage their promoted pins and create stunning visuals that increased their sales.
Its site also provides case studies that demonstrate other successful campaigns by describing company profiles, what was done with the original pins, how it leveraged an influencer partnership, the difference the promoted pins made and the improved metrics behind them.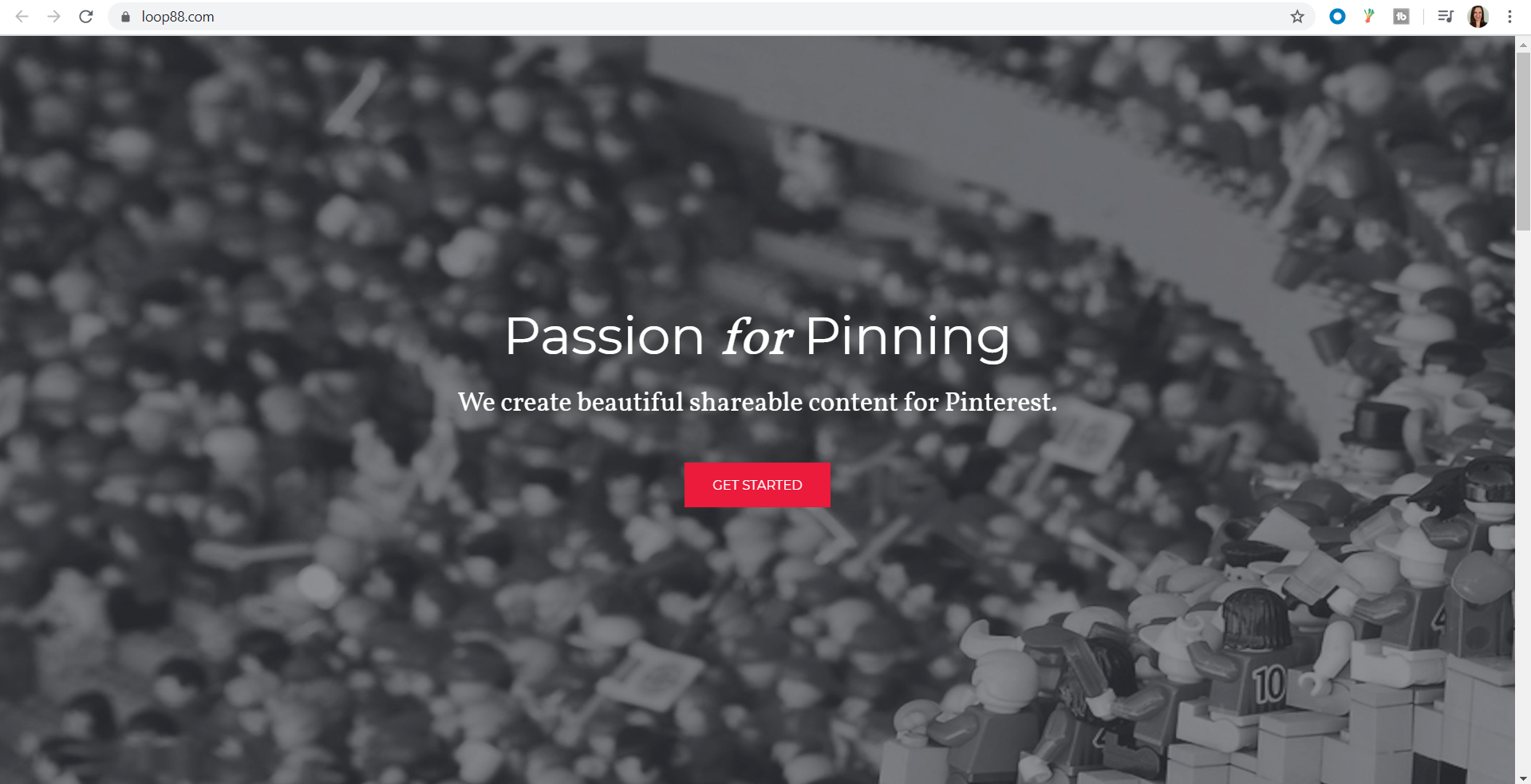 Put a pin in it
In this case, it would mean get to work as fast as possible. With Pinterest, the visual and promotional possibilities are endless. Having these Pinterest tools in your arsenal will help your company create such effective imagery that it will stop your audience members from scrolling in their tracks, depleting any resistance they would have from clicking on your pin, sharing it and migrating over to your site to make a purchase of your irresistible product.