Effective on: February 22, 2021
In this digital age, small businesses have access to a powerful electronic platform to communicate with prospects and customers. Keap constitutes one part of the giant megaphone small business owners can use to make their mark upon the world. That said, as one superhero's father figure so aptly put it, "With great power comes great responsibility."
This means online content must always be respectful of others' rights, including intellectual property rights. Here on Keap's site, we follow the copyright protection process provided by the U.S. Digital Millennium Copyright Act (17 U.S.C. § 512, referred to here as the "DMCA"), and we ask that our customers, partners and other third parties do the same.
Before we get started, let us specifically note that DMCA takedown notices and counter notices are submitted under penalty of perjury under the terms of the DMCA. Thus, failing to be truthful in DMCA correspondence may result in personal liability. We recommend involving your legal counsel with this process, because while mi casa es su casa (for sure!), it's not the same with legal advice – our lawyers are not your lawyers.
Keap's DMCA Takedown Process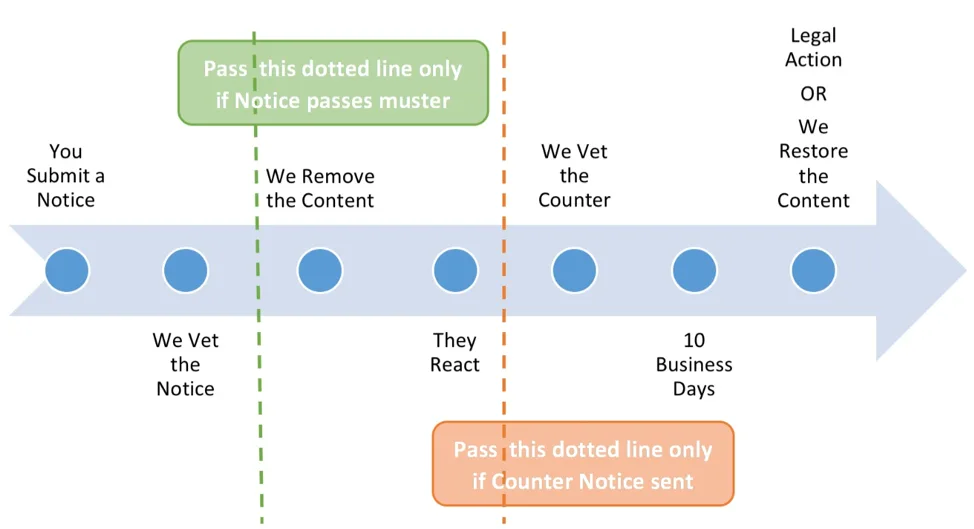 You Submit a Notice. In order for Keap ("us" or "we" or "our") to take down any infringing material, we first have to be told about it. If "you" (or "your" or "yours") are either a copyright owner, or their agent, you can initiate a takedown process by sending us a DMCA Takedown Notice ("Notice"). The purpose of the Notice is for you, the copyright holder, to make a claim that content ("Content") you own, or own the rights to, appears on Keap's site(s) without permission. Notices can be submitted through our online form (preferred), or sent by email to our Copyright Agent at [email protected], or even sent by mail to our headquarters at Infusion Software, Inc., 1260 S. Spectrum Boulevard, Chandler, AZ 85286, +1 866-800-0004, ATTN: Legal Department – Copyright Agent.

We Vet the Notice.

Any Notice we receive will become effective only if it's complete, i.e., includes all information the DMCA requires, and we will review each Notice we receive for this purpose. If your Notice doesn't meet the DMCA requirements in some way, we'll let you know we can't accept the Notice as provided. Acceptable Notices must include:

An electronic or physical signature of the person authorized to act on behalf of the owner of the copyright interest;
A description of the copyrighted work that you claim has been infringed;
A description specifying the location on our website of the material that you claim is infringing;
Your email address and your mailing address and/or telephone number;
A statement by you that you have a good faith belief that the disputed use is not authorized by the copyright owner, its agent, or the law; and
A statement by you, made under penalty of perjury, that the information in your Notice is accurate and that you are the copyright owner or authorized to act on the copyright owner's behalf.

If the Notice is complete, we then need to determine whether it is valid. To do this, we'll review the copyrighted material to which your Notice relates. Sometimes we may find that the Notice is fraudulent, inaccurate or mistaken, or describes material as protected that can't really be protected, like a clearly fair use of copyrighted material, or material that clearly wasn't created by the person cited in the Notice. In these cases, again, we will let the submitter (you) know that we can't accept the Notice as provided.

We Remove the Content. Once we've confirmed the Notice is complete and valid, we will remove the Content, possibly inserting a suitable note that the content was removed due to a Notice. When we remove Content due to a Notice, we tell the person who submitted the Notice (you) that Content claimed to be infringing has been removed, and of course we also notify the person or entity that owns the site from which the Content has been removed ("they" or "them" or "their") – assuming we can identify them with a good-faith effort on our part.

They React Accordingly. When they receive the Notice and we tell them the Content has been removed, there are several possible ways they may react.

They may accept the removal, and then we all move on with our lives. Except that they now have a record of having posted infringing Content, and we will take that into account if they receive any further Notices, and eventually we may need to take action against them like suspending or cancelling the applicable Keap account.

Or, they may change and re-post their content in a way that doesn't infringe; in this case, they need to let Keap know what they did and why they think there's no longer any infringement. Re-posting the Content we removed is not allowed; we all need to honor this process, and re-posting the Content is grounds for suspension or termination of the applicable Keap account.

Finally, they may submit a "Counter Notice," in which they tell us why they believe their use of the Content is proper and did not in fact infringe your rights. Counter Notices can be submitted through our online form (preferred), or sent by email to our Copyright Agent at [email protected], or sent by mail to our headquarters address, ATTN: Legal Department – Copyright Agent and must include:

Physical or electronic signature;
Identification of the material removed or to which access has been disabled;
A statement under penalty of perjury that the signer has a good faith belief that removal or disablement of the material was a mistake or that the material was misidentified; and
The signer's full name, email address, mailing address, and a statement indicating consent to the jurisdiction of the Federal District court (i) in the judicial district where your address is located if the address is in the United States, or (ii) located in the District of Arizona, if your address is located outside the United States, and that you will accept service of process from the complainant submitting the Notice or his/her authorized agent.

We Vet the Counter. After reviewing their Counter Notice for completeness, we will reply to them and also notify you of the Counter Notice.

TEN BUSINESS DAYS PASSES... during which time, we hope that you and they will start seeing things eye-to-eye, on the basis of having exchanged the Notice and the Counter Notice.

Because, we love peace, sunshine and flowers. Don't you?

During this time, they can't re-post the Content.

Legal Action – OR – We Restore the Content. If you are not persuaded by their Counter Notice, you may take legal action against them if you wish. If you do so, and if you so notify Keap within 10 business days after we provide you the Counter Notice, we will not restore the Content per DMCA requirements. If you take longer than 10 business days to either take action or notify us, then we will restore the Content as required by the DMCA.
Sign Keap DMCA request documents:
Takedown Notice
Counter Notice