We can tell you about how important personalization is for your business until we're blue in the face, but telling you isn't as effective as showing you. Here are some examples of businesses who successfully personalized their emails in a meaningful way:
Online nutritionist
Although the nutritionist's name (we'll call her S) and business name have been redacted for privacy purposes (they're a real Keap customer), her story is an excellent example how just a few simple steps made within the app helped her smoothly handle an increase in clients while still maintaining the personal touch she had become known for.
S built her holistic nutritional consulting business through good content. She had a podcast, a blog, published recipes, and created various nutrition plans for different types of diets. Once S started using Keap, she started including specific fields in her contact forms (i.e. "What's your biggest challenge with losing weight?"). This helped her learn more about the kinds of leads that were coming to her website. She was then able to track how they interacted with her content, and what type of content resonated most with certain groups of people.
Having this valuable knowledge at her fingertips, S was able to tailor her content, programs, and communications with groups of varying interests. What's more, Keap's automation capabilities allowed her to add this personal touch for all her clients and prospects—without having to manually track, react, and respond to them. With all this heavy lifting done by Keap, S is now on track to make $120,000 by the end of 2020.
Dermatologist
Another Keap customer, this office of dermatology was able to discover a sweet spot of its customer base among Baby Boomer (and older) women. Knowing this, they are able to cater their content, lead magnets, email communications, and in-person doctor visits to the concerns of their patients (i.e., sun spots, fighting signs of aging, skin tags, etc.).
To gather this information, the office of dermatology offered a lead magnet gated behind a contact form and survey. In addition to the main contact details (name, email address, city of residence, etc.) and their biggest skin health concerns, they also asked respondents if they needed transportation arranged for their appointment, breaking down yet another "barrier of entry" to conversion.
After a patient has visited the office, a series of follow-up emails are automatically sent to thank them, ask them to rate their level of satisfaction, show them additional products or services they might be interested based on previously retained data, and to remind them of upcoming appointments.
Keap has saved the office 40 hours of work a week (about one employee's salary).
Naturalizer
According to a study conducted by AgilOne, nearly 80% of respondents said they expect businesses to remember how long they've been a customer. Women's online shoe retailer, Naturalizer, taps into this expectation by sending an anniversary email to its customers, like the one below. By recognizing their customers and showing appreciation of their business through a promotion (in this case, free shipping on the next order), they've increased their chances of the recipient becoming a repeat customer.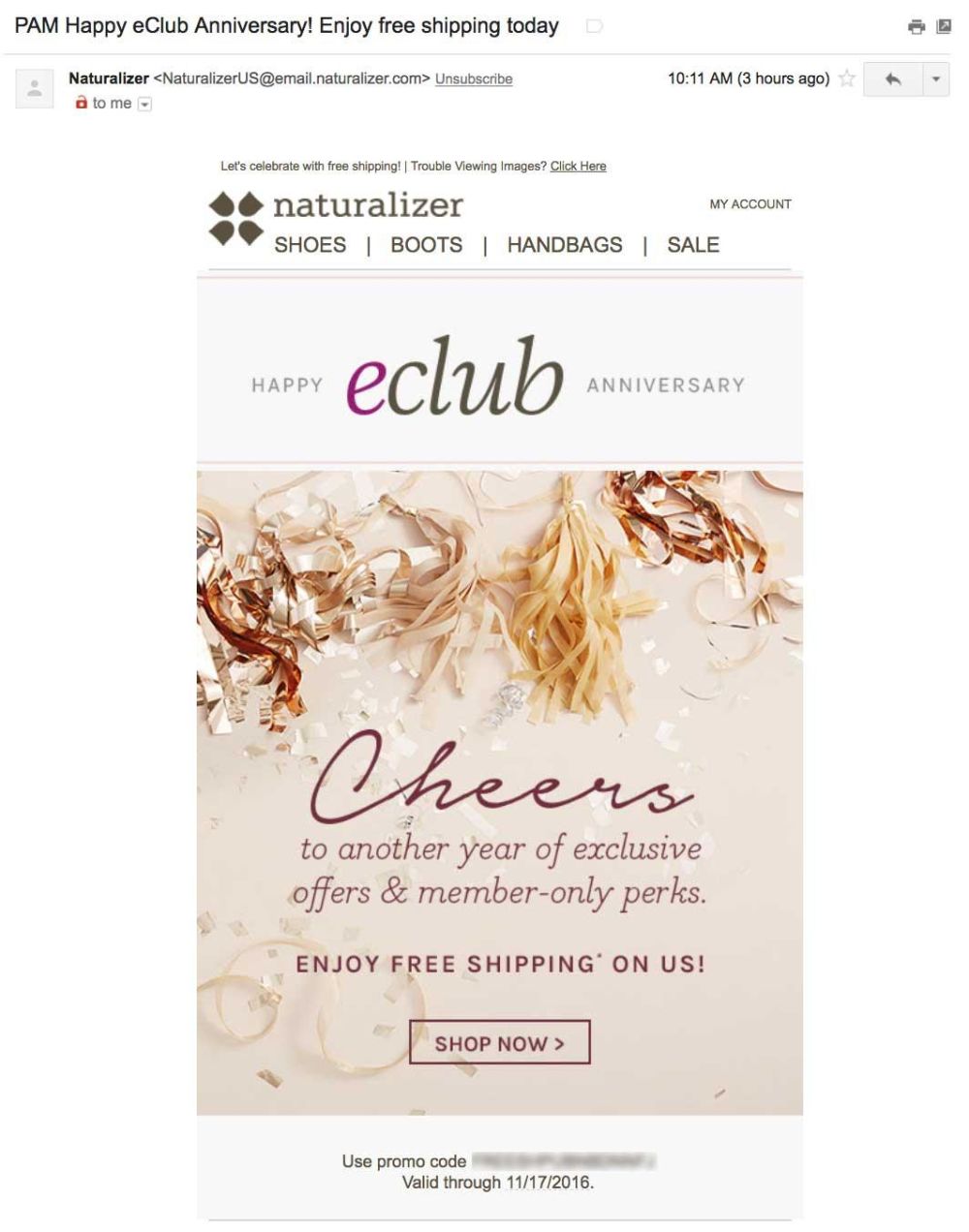 Spotify
If you want to find a business that's absolutely killing it at personalization, look no further than music streaming service Spotify.
For a few years now, Spotify has been considered one of smartest entertainment platforms available. This is in large part because its super-intelligent algorithm helps the platform tailor every experience to the user, and only improves the more a person uses it. They're also known to curate weekly music playlists or users to discover based on previous listening habits.
But the personalization doesn't stop there. Upon email opt-in, Spotify will alert you to new music releases you might be interested in, upcoming local shows near you, and even show you an in-depth timeline of your listening habits over the past year in its Your Year Wrapped campaigns.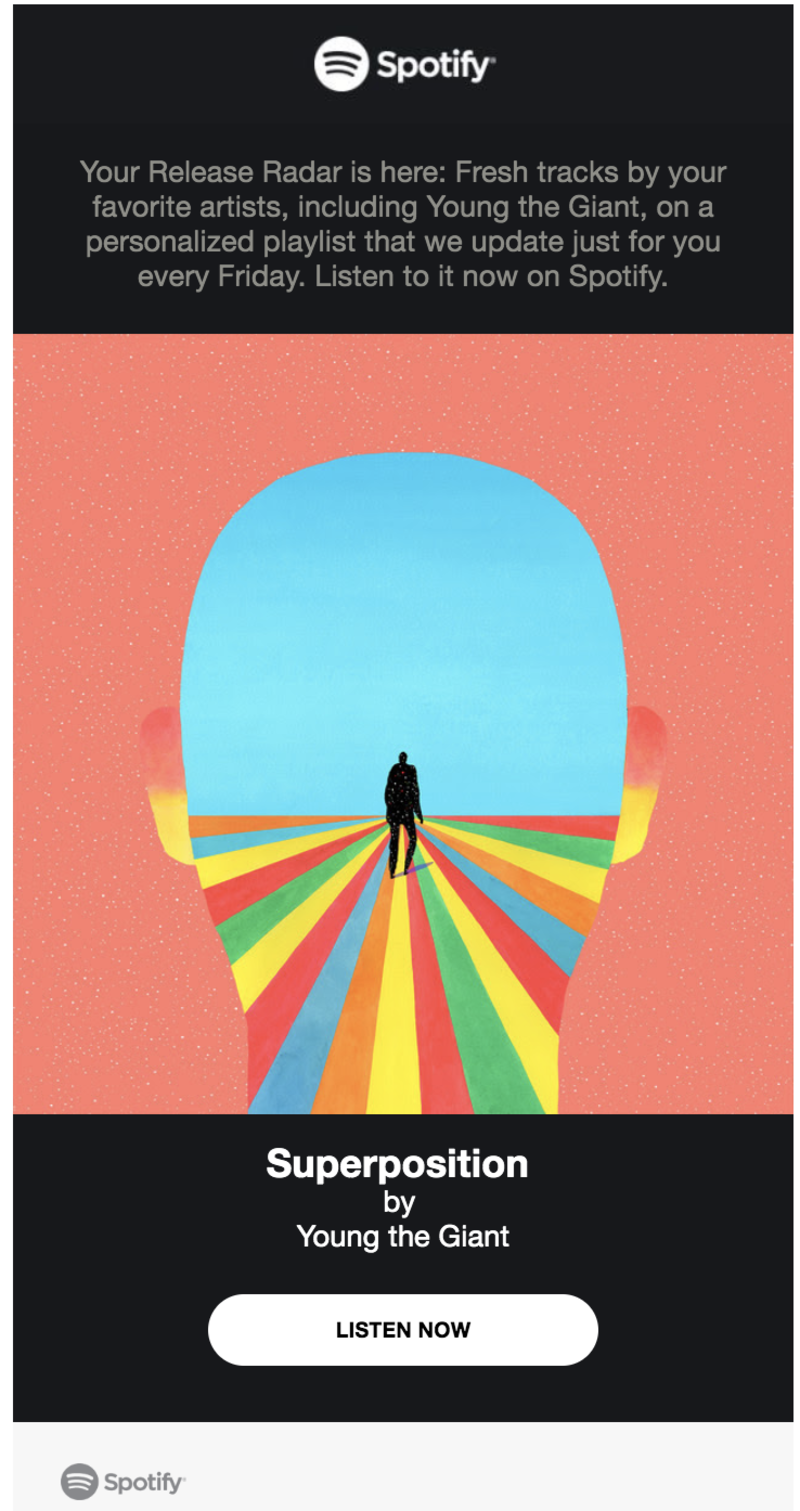 We understand this is more of an aspirational example of personalization at its finest, but it's still cool to see how ultra-personalized experiences can truly help a business's bottom line.