In the real estate industry, both organization and follow up are crucial to success. Whether you are a solo agent managing multiple deals or an agent/broker who is part of a large team, often one of the biggest challenges is having real estate customers slip through the cracks and thousands of commission dollars are lost as a result.
The majority of successful real estate industry professionals have talent and skills in the area of personal interaction and human connection. Real estate marketing automation software can streamline operations and free up time so you can focus even more on solidifying relationships and closing sales.
Real Estate's Unique Challenge of Lead Organization
Many agents and brokers are aware that at any given time, there are massive amounts of leads that often aren't being followed up with correctly. For example, some real estate customers call in on a listing sign, come through a web lead generation tool, or are even referral potential from past clients and never get a follow-up.
The problem is, it's nearly impossible for agents to consistently and accurately follow up with every potential sale or listing in a timely manner. For most agents, the biggest gap lies within the prospects who inquire and don't get a quick follow up, so they go back to their laptops and phones and they call another agent, or another listing, or cruise through the MLS on another site.
Many agents require some sort of assistance to wrangle leads and operate efficiently. According to the National Association of REALTORS®, 13% of realtors employ at least one personal assistant. They often assist in admin tasks like lead follow-up and tracking, calendar updates and scheduling, and database organization.
But what if instead of hiring a whole employee, you had a software to save you all that time? A better solution is the right real estate or mortgage CRM software. In fact, realtors most want to see CRM tools (35%) provided by their brokers.
See how Keap's CRM can be customized for your real estate business.
How Real Estate Marketing Automation Works
With marketing automation software (such as Keap), every lead gets funneled to an appropriate follow-up sequence, which also contains reminders for the agent to attempt contact with the lead. Marketing automation software delivers educational emails, reminders, and text messages to interested leads while the agent is attending a closing or showing a home.
External channels are also pivotal to success. Social media platforms are among the top three most valuable technology tools in the real estate industry. Showing homeowners holding the keys to their new home on Instagram, using Facebook Live to give their Facebook friends a quick tour of their latest listing, or running a contest to give away some movie tickets or a fruit basket are prime examples of incorporating social media into real estate lead generation. It's also an excellent use case for real estate marketing automation.
These strategies are innate to those who operate best on the interpersonal communication level. But what happens next? How do you increase your number of transactions?
The answer is the proper use of automation in marketing and lead management.
Capture Leads
When a lead hits your IDX site, social media, or web lead generation site, you should have that person's information within seconds. Never allow more than two searches before a lead capture form requires at least a name and email to continue. If possible, get the phone number so you can initiate SMS or a phone call follow up as well.
Once you have the contact information, your real estate marketing automation software can send a friendly introduction email to the clients so that client/agent connection can begin sooner rather than later. Ensure the agent's contact information, logo, and team or business info is clearly displayed, and send a call-to-action either in the first email response or the second.
The real estate prospect should remain in an automated nurture campaign of some kind until the agent has had a chance to place that client in a "bucket," which should determine what kind of long-term follow up is needed if any. The prospect may be a prequalified buyer who is currently looking for an agent and has a down payment ready to go -- but you'll never know without rapid follow up.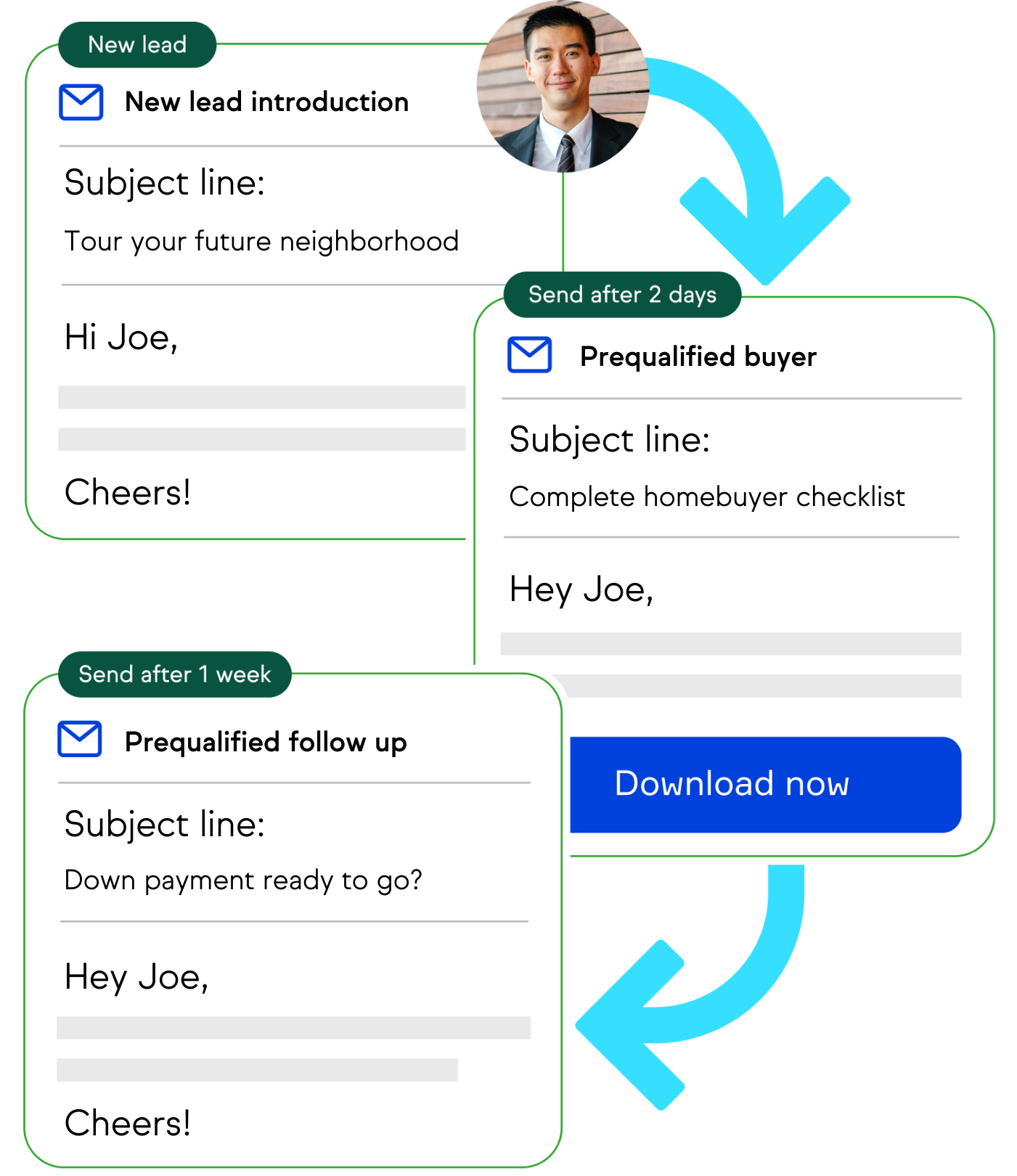 Segment Your Real Estate Customers
Audience segmentation is also very important. A solid CRM software like Keap allows the agent to tag these customers by their category so that they automatically receive emails relevant to their status
For example, even if a client comes through as a buyer lead, it is possible they also have a home to sell. Some buyer leads are looking to buy a home in the short term, and some are six to 12 months from purchase. It's important to stay in front of those leads because they may need credit repair services, loan approval or referral, and market updates during that time period.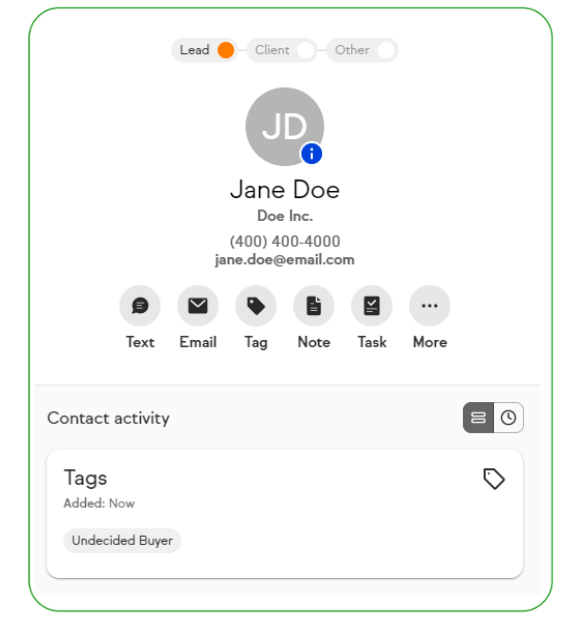 The same can be said of sellers; some are ready to list their homes ASAP, and some sellers have a specific listing date in mind. Many areas are saturated with agents and competition for clients is tough. If an agent has multiple clients who are several months out from transaction, it's critical that those clients are placed in a time-frame based, relevant nurture drip in order to maintain that agent and client connection.
Send them something useful like a newsletter with a market snapshot or photos of a monthly featured client who has achieved the goal that your prospect is waiting to accomplish. A good place to start is with an overview of what they can expect in the buying or selling process, or tips that they can utilize to prepare themselves ahead of time.
Get ahead of the client and initiate targeted follow up in order to use automation to close the gap on lost leads. The Zillow Group Consumer Housing Trends Report 2018 found that not only do three-fourths of buyers say that knowledge of the local market is highly important, but 80% also ranked responsiveness as very or highly important. If a knowledgeable and experienced agent has the power of real estate automation technology behind them, they hold the formula for success in the industry.
Schedule Appointments
Did you know that real estate automation software like Keap can also automate your appointment scheduling? Rather than being on call around the clock to set up showings, you can sync your calendar with an automation tool to schedule 24/7 without lifting a finger. Leave the back and forth behind to focus your communications on relationship building and closing leads.
Another great perk of automating your scheduling is having confirmation and follow up emails sent out to reduce no-shows and confusion. With Keap, the scheduling feature is built in with the CRM and automations, creating a convenient all-in-one platform for real estate professionals.
Get Real Estate Referrals
Real estate agents rely heavily on referrals from past clients, but even more so now, real estate referrals are the way to get new customers.
Here are a few reasons why getting real estate referrals from past clients is a top priority:
They cost less
Although there is some cost to keeping in contact with past clients, it can be hundreds—or thousands—of dollars less than an advertising campaign. "To run a single full-page ad in a local paper can run $700 in a single week, whereas a mailer to 200 past clients and fellow agents runs about $100," Bryan Robertson, a broker associate and realtor with Sereno Group Real Estate, says. "The cost of an online network, which also generates referral leads, is even less expensive."
Increase in Distressed Properties
Since the agent learns details of the personal lives of such sellers, the sellers of distressed properties are much more likely to go with an agent's recommendation from a friend or family member.
Referrals are More Likely to Become Clients
Agents find that people who are referred by friends or family often have a higher likelihood of becoming clients than those who found their name online or in an ad. Each time your phone rings and the person on the other end is someone who heard about you from a past client, you are one step closer to another sale or listing without any additional time or advertising money spent.
Dominate the Real Estate Industry with Automation
An agent should make a concerted effort to personally contact every lead that comes their way, whether they have the time to call themselves or need to hire an inside sales agent to call through leads for them.
Either way, if the leads are in a database, segmented, and in some sort of nurture sequence before a phone connection is attempted, there is a much higher chance of conversion of that lead. Leverage real estate marketing automation to save time, expand your capabilities, and close more leads.
See what else CRM combined with sales and marketing automation can do for real estate professionals.