Choosing a business consulting software for any business owner can be a daunting task. There is a LOT to think about. In fact, the list of considerations can be very overwhelming. That's why I wanted to share our 5-step checklist to help others to make smarter decisions when it comes to selecting the right software for your business.
What to Look for in Business Consulting Software
1. Business Requirements
One of the first steps of identifying the right software is being able to clearly define your business requirements. What problem/problems are you trying to solve? The clearer you are about the business challenges you face and your specific business requirements, then the more likely you will be to select a software package that will meet them.
A consulting business may want to overcome some of the following common challenges:
Save Time: You are doing a lot of manual and repetitive tasks that take valuable hours every day/week.
Lead Capture: You have sticky notes, Excel spreadsheets, emails, text messages and business cards everywhere, and you need a more efficient way of capturing leads.
Central Database: You have contact information everywhere, and you need to be able to store leads and customers in one place.
Mass Communication: You don't have a way to send a bulk email to a group of contacts, and you need to be able to communicate to leads and customers more easily (and more often).
Sell Online 24/7: You're currently relying on yourself or someone else to process payments, limited to when you're online. You need to be able to allow customers to make purchases online at any hour of the day/night without staff involvement.
Automate Follow Up: You're struggling to keep up with manually sending emails/text messages and not creating a consistent customer experience. You need to be able to automate the same messages to contacts to design the ultimate experience for your client base.
Of course, the problems faced by modern business consultants are not limited to this list. In fact, there is a wide range – probably hundreds of possible problems that the best software for small business can help you solve. This could include anything from project management, data storage, email client, analytics tools to graphic design tools. Take time though to consider your problems and what you require from a system. This will help you in the long run to know whether the software is helping you solve them.
2. Business Consulting Software Functionality
Defining the problem and what you need can be challenging when you don't know what's possible out there. Here is a list of the essential features that successful business consultants use, typically in an all-in-one software solution.
The ability to send emails out in bulk is a powerful way to leverage time and reach the masses. Email marketing allows consultants to target specific segments on their list with different messages to keep their audience engaged.
Using a Customer Relationship Management (CRM) system, allows all key contacts, potential clients, suppliers and customers information to be stored in the one place on contact records. If you're in the B2B space, you may also need the ability to have company records to associate your contacts with.
Tasks
It's hard to remember to follow up - when to do it and what you need to do. Finding a system that allows you to create tasks both manually and automatically with reminders, will boost your ability to follow up effectively with your contacts.
Whether you're doing free sales calls or client appointments, you may need software that will allow you to automate the process of sending booking links and having your contacts select and book a time based on your availability. Not only that, but you may also wish to automate your confirmation and reminders to boost your show up rates.
Your time is valuable. Going backwards and forwards trying to find a time that suits you both is painful and inefficient. Also, when people don't show up, that's not helpful either. Appointment scheduling is an essential function required by most business consultants that can allow you to up your game and focus on other things that matter more.
If capturing leads is important in your business, then you want to take advantage of a landing page builder. This allows you to create a webpage with an offer – which can be a free (such as a lead magnet) or paid offer. A contact can visit the page and sign up, without the need to be a website developer and building a page on your website if you don't need/want to.
If you want to sell online, so people can buy even when you're sleeping or just busy, then the ability to accept payments online via a secure online form is a must for modern consultants. Whether you're selling an online course, hourly engagements, consulting services, custom client projects, recurring membership, events or templates, an online order form will allow you to accept credit cards and PayPal payments online and get paid.
The ability to automate the distribution of invoices reduces the need to use another system or manually create and send out an invoice for each transaction. A lot of business consultants need to transact online or have the ability to easily issue invoices. It's important to consider a solution that can help complete this fundamental activity for a small business.
In our modern world, we need the ability to not only reach our audience via email, but also reach them in the palm of their hands via messaging. Text marketing allows business consultants to connect with their client base via mobile phone, whether it's for the purpose of marketing or customer fulfilment. This is a powerful tool to take your business communications to the next level, and it's used by all the leading consultants and freelancers out there.
Do you send out or want to send out proposals/quotes to your prospects? If so, then you may want a solution that will allow you to easily create a quote, send it out and have your leads accept/decline.
A quoting solution allows consultants to move away from manually creating word document-based proposals that are more time consuming and manual. Implementing a tool to help with quoting not only saves time but will also allow you to look more professional and streamline your sales process.
The ability to set up and track sales opportunities is critical for most business consultants who speak one-on-one to their high-end leads. This functionality will allow a small business owner to define the stages of their sales process and be able to have their leads included in these stages and easily move them as required as they go through the sales process. This functionality helps business consultants to keep track of their opportunities to convert more sales.
This list above highlights some of the core functionality that's needed for business consultants in a software platform. Of course, there are additional features that are possible or needed. It's worthwhile documenting all of these, so you're clear on the features to increase your chances in finding the correct solution for your business.
3. Software Accessibility
In addition to the functionality, some other considerations when choosing a business consulting software relate to accessibility.
This can take the form of the following:
Cloud Based Software: Is the software accessible online (and therefore not saved only on someone's computer)?
Mobile: Is the software accessible on mobile devices, whether you're an Apple or an Android user?
Users: Can team members that require your system access it from anywhere in the world and see what they need to see?
Integrations: Does the software integrate with other common tools that are critical to your business, such as your accounting software?
Accessibility may seem like a given, but without it, it could actually prove to be a deal-breaker for you when considering a new solution for your business.
4. Software Usability
With the introduction of any new technology in your business, you need to make sure you can use it.
Consider yourself and anyone in your team that will need to access the tool. Is the system easy enough for them to do so? If not, do you have the resources available to invest in others either setting it up or running it for you? Software is designed to make your life easier. But if it's too complex, and you don't do anything with it, it can be a big expense.
We don't want that! Be real with yourself and the level of investment you're willing to make to achieve the business impact you desire.
Speaking of which, let's look into the business impact further…
5. Business Impact
Investing in a system is like any investment for a small business. You should get clarity on the impact it will have on your business and whether it has a positive return on investment.
Will it save you time?
Will it allow you to reach more clients and make a bigger impact in the world?
Will you be able to convert more sales?
Will you save on paying for multiple software subscriptions by rolling functionality into one?
Get as clear as you can on the quantifiable impact on your business when you make an investment in software.
Here's some examples to help you quantify the impact:
Example 1
Would you spend $200 / month if it meant you could make 2 extra sales per month just by being able to take payment online and follow up with leads more effectively?
Example 2
If you pay for a landing page tool which is $74 / month, a quoting tool for $49 / month and a scheduling tool is $8 / month, that equals $131 / month. If one system did it all and more, would you be happy to save $131 / month and retire using those other software platforms?
Example 3
Let's say your consulting rate is $50 per hour. You find a software that you can utilize automation tools to streamline a bunch of manual tasks, that allows you to save 20 hours per month. That's essentially saving you $1,000 per month automating your business processes ($50 / hour x 20 hours). Would you invest $200 per month to save $1,000?
One of the most impactful benefits of software for a consulting firm is being more efficient and saving time. It can, however, be difficult to determine how much time can be saved and what that means to a business's bottom line.
It can be worthwhile to calculate your return on investment by setting up time saving automation before you get started. That way you can assess the costs associated with building and what it will cost ongoing to determine if you are going to achieve a positive ROI ongoing and how long it will take to recoup any set up costs to start achieving that.
By being clear and calculating an estimate on how implementing business software may impact your bottom line, this will allow you to make a more informed decision about an investment in a system that can help you scale and grow your business further and faster.
Conclusion
There is a LOT to consider when choosing a business consulting software. These 5 areas outlined in this checklist aims to help you get closer to selecting a solid tool so that your consulting business can utilize the best practice functionality to give you a competitive advantage. This can literally be a game-changer and fast tracking your growth by years through automating business processes and helping set up the right systems to help you to scale and serve more clients.
An all-in-one business consultant software like Keap combines CRM with sales and marketing automation to serve consultants in every stage of their business. Start your free 14-day trial with Keap, no credit card required.
Author Bio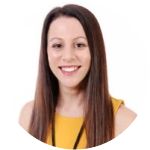 Mandy Brasser is an international award winning Keap Certified Partner and Founder of Streamline For Success based in Australia. She's been providing personalised support to help leverage the power of automation to save time, boost sales and help grow small businesses since 2014.